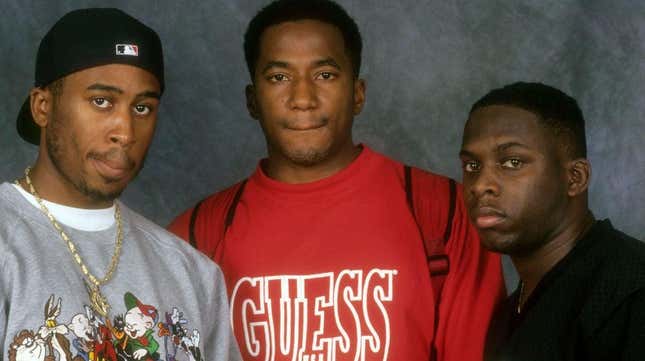 On Wednesday, hip-hop heads all over were ecstatic when it was announced that Missy Elliot became the first female rap artist to be inducted into the Rock & Roll Hall of Fame. It was well-deserved. But although we were all excited for Missy, the snub of A Tribe Called Quest, who is undoubtedly one of the most important and influential entities in the history of hip-hop, left a bad taste in our mouths.
Chuck D's Fight The Power: How Hip Hop Changed The World Is Our TV Pick
To be eligible for the Rock & Roll Hall of Fame, "an individual artist or band must have released its first commercial recording at least 25 years before the year of nomination." For Tribe, they released their debut studio album in 1990 and have been eligible for nomination since 2015. Despite that, the group wasn't nominated for the honor until a year ago, and now they'll miss out on it again.
Why?
What have they not achieved for them to not be inducted? They have critically and commercially successful albums. A plethora of popular artists have outwardly discussed the influence their music had on their lives and careers. They have sustained success spanning three decades. What else do they need to do?
Fellow Queens rapper and frequent Tribe collaborator Consequence voiced his frustration over the group's snub in an interview with TMZ: "What we not gon' do is keep subjugating that name, A Tribe Called Quest, to a white popularity contest, and having them in there as the token niggas pick. We gonna stop that."
He continued, "Now, we love Missy, shout out to Missy. We love everybody who got nominated for music. But on a political side, what I ain't really feeling is that now, we gotta explain 0-for-2. The merit of the music, you can't put a record on that. You can't put an 0-for-2 on A Tribe Called Quest and what they did for Black music."
Ain't no lie in that man's voice.
But this is what happens when Black artists try to thrive in white spaces. Although I don't have an exact idea of the ethnicities of the people voting on who gets inducted, I do know that Tribe is trying to be inducted into something that was not created for them. It's called the "Rock & Roll Hall of Fame" for a reason.
It wasn't created to get the most celebrated and best artists in hip-hop. So while the rap community should be disappointed, we shouldn't be shocked when this body of voters doesn't recognize one of hip-hop's legendary entities.