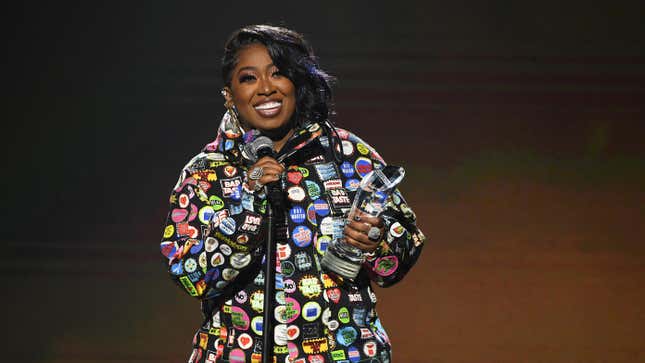 Updated as of 12:00pm ET 5/3/23
Missy Elliott's impact on music and the culture at large is one that can never be overstated. Now, thanks to the Rock & Roll Hall of Fame, both she and her legacy have made history as she's the first ever female hip-hop artist to be inducted.
Over 1,000 artists, music historians and industry professionals voted to include Elliot in the 2023 class, which also includes legends like Chaka Khan, DJ Kool Herc and Soul Train creator and host Don Cornelius.
The latest honor, announced today, falls right in line with Missy's previous pioneering accomplishments, as she was also the first female rapper to be inducted into the Songwriters Hall of Fame, the first to receive the VMAs Vanguard Award, and the first to be honored with Women's Entrepreneurship Day Music Pioneer Award at the United Nations—all in 2019 alone. Of additional note, she's also currently the best-selling female rapper in Nielsen Music history.
Elliot, who made it into the hall in her first year of eligibility was called "a true pathbreaker in a male-dominated genre" by the Rock & Roll Hall of Fame Foundation.
The "Work It" rapper shared her appreciation for the honor in a tweet thanking friends and fans for their support, writing "If I miss some of yalls tweets please forgive me it's a lot to see but I do want to say Thank You to my Fans (Supafriends) my Peers/Radio/Djs/Bloggers & again @rockhall! I am Thankful!"
The 38th Annual Rock & Roll Hall of Fame Induction Ceremony will take place on Friday, November 3rd at Barclays Center in Brooklyn, New York.