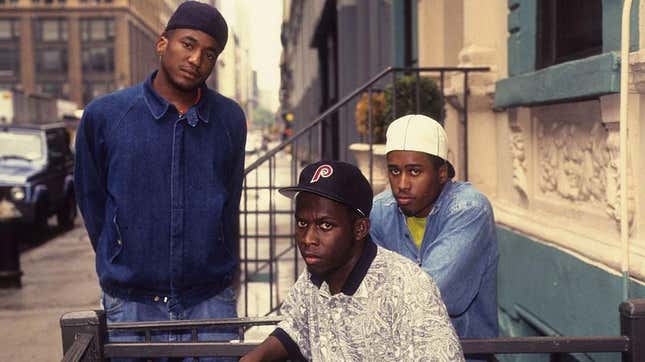 Nobody will question A Tribe Called Quest's status as one of the most celebrated and legendary hip-hop groups of all time. They have a close to flawless discography and have influenced some of the greatest artists of the 21st Century including Kanye West, Pharell Williams, Andre 3000, Questlove, Pusha T, Little Brother and Slum Village.

Remembering De La Soul's David Jolicoeur And The Group's Hit Song "Me Myself And I"
Ever since their debut album, People's Instinctive Travels and the Paths of Rhythm, Tribe has been at the center of the "nerd" rap universe, along with the rest of the Native Tongues collective.
But, while they've always been revered and accepted by Black people, they've gotten just as much support (if not more) from their white fans.
Hip-hop as anti-establishment music
During the late 80s, Hip-Hop was in a mode of transition for white people. During the late 60s going into the 80s, the "rebel" music that white suburban kids were in love with was heavy metal. The music was loud, intense, virtuosic and powerful. But in the 80s, hip-hop replaced metal as the music white parents did not want their children listening to. Record labels noticed.
Dr. Maurice Johnson, a professor who uses hip-hop as a tool to discuss Black portrayals in the media, explained that the heavy metal/punk rock scene was supportive of hip-hop during the mid-80s, saying, "White people and the punk rock scene in New York were supportive of Hip-Hop early on. Record label owners recognized that suburban teenage white males were the number one consumers of hip-hop culture."
Johnson continued, "Early on when white kids began identifying with hip-hop, they weren't in it just for the arts, they viewed hip-hop as an anti-establishment culture. It was still primarily an underground phenomenon. But, with all things in a capitalist society, it's bound to be exploited."
Gangsta and provocative rap
In comes the popularization of Gangsta Rap and other forms of hip-hop that was raw and in-your-face. Artists such as N.W.A. and 2 Live Crew were becoming household names among young white teenagers and as you would imagine, their white parents weren't happy about it.
In 1988, N.W.A released their classic protest song, "Fuck Tha Police," which sparked worldwide outrage. Australian radio station, Triple J, was banned from playing the song on their airwaves. Los Angeles police declined to help with security at N.W.A. shows. The FBI even sent the group a letter, warning them that "advocating violence and assault is wrong and we in the law enforcement community take exception to such action."
Something similar was done to 2 Live Crew in 1990. Shortly after the release of their third album, As Nasty As They Wanna Be, the United States District Court for the Southern District of Florida ruled that the album was legally obscene. But, the appeals court later overturned the ruling, saying that the album had artistic value.
Enter A Tribe Called Quest
As Gangsta rap was taking over the hip-hop scene, A Tribe Called Quest decided to go their own route. Their debut album, People's Instinctive Travels and the Paths of Rhythm, consisted of R&B, soul and jazz samples, which were ignored by the majority of mainstream producers at the time. Their lyrics were laid back, relaxed and unorthodox and they resisted the urge to rap about violence and misogyny.
While their music wasn't as bombastic as some of the gangsta rap of the era, they still had lyrics that discussed things going on in their hood and expressed an Afrocentric way of life. It was something totally unique at the time and it reflected how The Native Tongues' collective wanted to create music: soulful, positive, jazzy, fun and uplifting.
This caught the attention of young Black hip-hop listeners who may have wanted something different from their hip-hop listening experience. But, to no surprise, white people caught on as well.
As Amanda Petrusich, wrote in The New Yorker, "there was a mumbled consensus that A Tribe Called Quest, with its socially conscious lyrics and avaricious sampling, was hip-hop for college-educated white people who were frightened by Ice Cube. This is a reductive and unproductive idea, of course, but it is probably somewhat true."
We talked to Malcolm-Jamal Warner, the actor in the Fox show Accused and proud member of his own A Tribe Called Quest cover band. He described the group as having, "a universal hippie appeal."
He continued, "They weren't representing what we now call toxic masculinity. They represented "nerds," relatively speaking. They made it cool NOT to have to be cool in the stereotypical way."
When Black artists are not "cool" in a stereotypical way, it makes it a lot easier for their music to be accepted (by white people), especially during a time when the genre could be so divisive like the 1990s.
Grant Sharples, a music journalist and Tribe fan, who is white, spoke on the group's appeal to White listeners, saying, "A lot of white people adopt a 'rockist' approach to the music they listen to, with the whole respectability politics that come with music made with "real instruments" (i.e. guitars) and white people's weird obsessions with 'conscious hip-hop, and A Tribe Called Quest fits that bill."
He continued, "A similar argument for why white people love Kendrick Lamar, who has been lauded by white institutions for years, but not someone like Yung Kayo who dabbles with the YSL crew."

This is what makes A Tribe Called Quest's impact and success so unique. Outside of other artists in the Native Tongues collective, Tribe was one of the only groups that were making popular jazzy and soulful hip-hop for a widespread audience, mainstream audience.
Now, you can hear that from some of the biggest rap artists in the world. Which speaks to the impact they left on the music industry and genre. No wonder, they've finally been nominated to the Rock & Roll Hall of Fame.