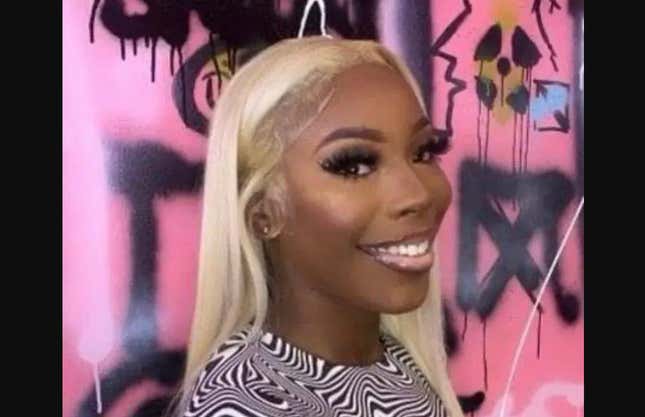 A police department near Columbus, Ohio, will release body camera footage Friday of a fatal police shooting from last week that claimed the life of a pregnant Black woman and her unborn baby. The authorities claim she was trying to flee from shoplifting but in an exclusive interview with The Root, her family attorney says they're not telling the whole story.

Small Town Horror Story: The Killing of Aiyana Mo-Nay Stanley-Jones
Ta'Kiya Young, 21, was at a Kroger in Blendon Township when an employee accused her and a group of people of stealing alcohol from the store, per The Columbus Dispatch. The employee flagged down a few police officers who were in the area for another reason and pointed them in direction of Young. Two officers then approached her on either side of her vehicle. Authorities claim she ignored their commands to exit the car and instead, hit the gas toward an officer standing in front of the car. Seconds later, the officer shot through her windshield.
Her car drove into the side of a building and officers broke her window to pull her out and provide aid. She died at Mount Carmel St. Ann's Hospital as well as her unborn child who was expected to be born in November.
Family attorney Sean Walton said a witness saw her leave the merchandise in the store and actually, picked it up themselves, eliminating the suggestion she was shoplifting. Walton also said the officers were unjustified in their approach to Young in the parking lot.
"[The officers] were in violation of the deadly force policy. Anytime there's an officer who is not in a vehicle and he confronts a moving vehicle, the policy says they're supposed to take evasive of action to get out the way," Walton said. "It was an overreaction and it is clearly a senseless act of violence that took away to Ta'Kiya and her unborn daughter."
Young's grandmother, Nadine, said what was a month full of birthday celebrations, baby shower planning and preparation for maternity photoshoot came to a screeching halt. Young had already lost her mom last year and now, her family is suffering another painful loss. Ms. Nadine said the family wasn't even notified about Young's death until nearly three hours after the shooting. By then, she was already gone.
Young left behind her 6-year-old and 3-year-old boys and was anticipating the birth of her first babygirl, Nadine said. She was an aspiring social worker and described as "the life of the party" who brought joy to everyone.

Walton and Young's grandmother called for the immediate release of the body camera footage and for both officers involved to be held criminally accountable for their actions.
"I need justice to be swift. I really need that for these children... for them to know they can count on the law to be swift and for justice to be served right... for them to be able to believe in the law," said Nadine Young.
Blendon Township Police Chief John Belford said the two (unnamed) officers involved have been placed on administrative leave upon pending investigation by the Ohio Attorney General's Bureau of Criminal Investigation.