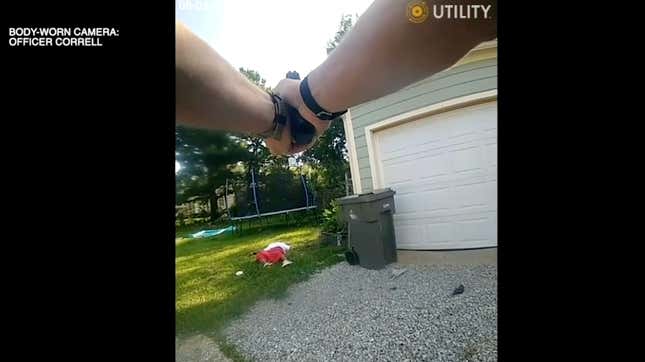 The family of an Indianapolis man is calling for the badge of a police officer following the release of "heavily edited" body camera footage depicting the moment the cop shot their relative. The victim's family argues that the shooting, overall, is unjustified and says the officer's disciplinary record raises red flags.

Comedian London Hughes Talks New Book, Parents Watching Her Very Sexual Comedy, & Beyoncé
Authorities say Gary Harrell was pulled over for reckless driving on Aug. 3, leaving his sedan as Indianapolis Metropolitan Police Officer Douglas Correll parked behind him. Harrell, police say, explained he was trying to avoid hitting something with his car. In the body camera footage, Correll walks to Harrell as he goes to sit back down in his driver seat. The officer asked him for his identification. Harrell responded that he had just gotten home from prison.
As he answers a call from his mother, Correll orders him to step back out of the car but seconds later, Harrell makes a run for it holding his phone in one hand and a .357 revolver in the other.
"Stop it, drop it!" Correll yelled while running behind him right and calling for backup. Two shots rang out from the officer's firearm and Harrell fell face-down in the lawn. He died after being taken to the hospital. Harrell's death resurfaces myriad questions about shooting deaths of Black men at the hands of police: was Harrell really a threat as he ran away? Did the cop have to shoot him?
Read more IndyStar:
Harrell's family in their statement said the shooting violated the U.S. Constitution and the Indianapolis Metropolitan Police Department's Use of Force policy, which was revised in 2020 to say officers are prohibited from using deadly force unless under certain circumstances. One circumstance in the policy says officers can use deadly force if they believe the person is fleeing "for any felony that threatened or resulted in death or serious bodily injury, if the officer reasonably believes that the person will cause death or serious bodily injury to another unless immediately apprehended."

The second circumstance says officers may use deadly force if they feel it's necessary to "prevent or defend against an imminent threat of death or serious bodily injury to the officer or another person."

In their attorney's statement, Harrell's family said neither circumstance applied in the shooting.
Harrell's family attorney also said Officer Correll was accused of falsely arresting and assaulting another Black man in 2020 after he'd called 911 for help, resulting in a $380K lawsuit settlement.
Both Harrell's family and the Black Church Coalition called for U.S. District Attorney Zachary Myers to launch a civil rights investigation into the use of excessive force by the IMPD and also for the release of the full, unedited version of the body camera footage.
As of now, the incident is under investigation by the department. It's unclear if Correll is still on duty as the probe continues.