Racism is so embedded in Southern culture that Mississippi Sen. Cindy Hyde-Smith truly believes that she's not racist; that her comment about being front row at lynching were not racist; that wanting to suppress the liberal vote is not necessarily racist or posing in Confederate artifacts is racist.

Wait, what?
On Tuesday, the same day that Hyde-Smith was set to take on Mike Espy in a debate before their runoff election on Nov. 27, photos emerged (well, they were posted to her Facebook account in 2014) showing Hyde-Smith proudly wearing a tiny-ass Confederate hat and a brandishing a Confederate weapon.
Ok, that's racist AF. 
But is it? Southerners argue that holding on to their heritage, which just so happens to be racist AF, isn't racist it's just nostalgic.
G/O Media may get a commission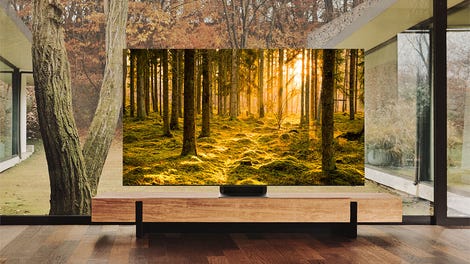 Up to 40% off
Samsung Smart TVs
"I enjoyed my tour of Beauvoir. The Jefferson Davis Home and Presidential Library located in Biloxi," she wrote in the post on her Facebook page, according to CNN. "This is a must see. Currently on display are artifacts connected to the daily life of the Confederate Soldier including weapons. Mississippi history at its best!"
See? That's totally not racist. It's just Mississippi history at its best! And Mississippi history just so happens to be that they seceded from the rest of forward-thinking Americans and formed the Confederate States of America to keep black people as slaves. But that wasn't because they were racist, that was because of money and since Mississippi depended on the free labor of their workers (also called "slaves") this was really just a sound business decision.
Oh and about the video (not the lynching one) but the newest video that showed Hyde-Smith ranting about suppressing the liberal vote, that was really just a Southern woman fighting for her ideals.
CNN reports:
In a video clip posted Thursday, Hyde-Smith said that making it "just a little more difficult" for some university students to vote was "a great idea."

"And then they remind me that there's a lot of liberal folks in those other schools who maybe we don't want to vote. Maybe we want to make it just a little more difficult. And I think that's a great idea," Hyde-Smith says in the video.
But isn't that what any God-loving, MAGA hat-wearing yokel would do when fighting against those crazy liberals?
Oh, and about the lynching "joke," where Hyde-Smith told a supporter that: "If he invited me to a public hanging, I'd be on the front row," the comment that we all read way too much into, she apologized during the Espy debate.
She literally said if anyone is offended by that then "I'm sorry." I know it doesn't sound like much but racist Southerners don't like to apologize for being Southern. And what Northerners or crazy liberals seem to understand is that it isn't racist if it's apart of Southern history.