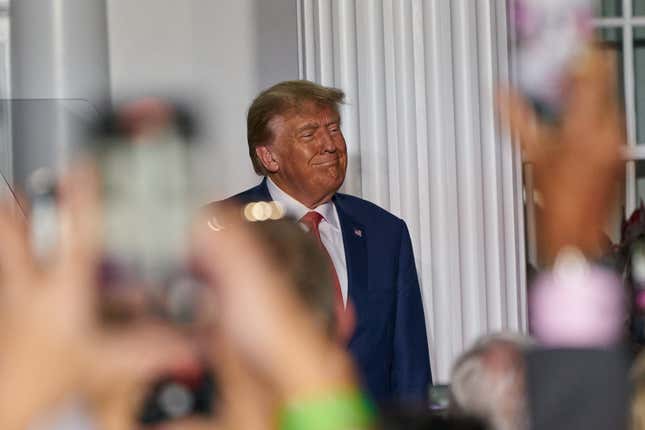 Things are moving faster in the federal case against Former President Donald Trump than almost anyone predicted. Despite concerns that Trump-appointed Judge Aileen M. Cannon planned to slow-walk the case, on Tuesday, she set the trial for August 14th.
Trump, A Victim of "Reverse Racism"? You Gotta Be Kidding Me
It's unlikely that the trial will end up being on that exact date since there is still a ton of pretrial litigation ahead. But the decision to set the trial date as early as August indicates that this is shaping up to be a fast-paced case. Last week, Judge Cannon ordered the attorneys, in this case, to "expedite" their efforts to get security clearances, which they'll need since this case is overflowing with classified documents (kind of like Trump's bathroom).
For those who need a refresher, earlier this month, a grand jury indicted Trump on 37 criminal counts, making him the first President in history to be indicted on federal charges. The charges were related to allegations that Trump not only illegally concealed sensitive national security information within his golf resort but also lied to the F.B.I. to hide his actions.
The date, in this case, matters because the Former President is currently the frontrunner in the Republican primary, which kicks off voting in February of 2024. That means if Judge Cannon holds to this pace, Trump could be convicted and sentenced before primary voting begins. Alternatively, if he wins at trial, Trump could be legally vindicated walking into the primary and general election.
So far, Republicans appear to be sticking beside Trump. Although, it's unclear how much that changes if he's actually convicted on these federal charges or if the trial brings new information to light.
Can Trump Run For President From Behind Bars?
The wild part is that even if Trump is convicted and sentenced before the primary and general election, that doesn't necessarily preclude him from running. Nothing in the Constitution explicitly bans someone from running for Presidential office while in prison. In fact, two previous candidates, Eugene V. Debs, and Lyndon LaRouche, both ran for President from prison.
It would be a pretty bizarre scenario, with Trump needing to rely on surrogates to do all of the campaigning for him. But with a trial date tentatively set for August and primary voting set for next February, it's not 100% out of the realm of possibility.
Could Trump Pardon Himself?
Let's say that Trump wins the election from behind bars or the trial gets pushed to after November 2024, and he wins the general election; what happens then? Well, in that scenario, there's a good chance we've got a constitutional crisis on our hands.
Donald Trump is facing decades in prison in just this one case, but if he's sworn in, he could attempt to use his pardon power on himself. For the record, it's a completely untested and pretty maligned legal theory, but with Trump's track record, it's hard to argue he wouldn't try it. He could also attempt to direct his attorney general to drop the charges against him.
What About Alvin Bragg's Case Against Trump?
Obviously, this isn't the former President's only legal problem. In March, at the behest of Manhattan Attorney General Alvin Bragg, a grand jury indicted Trump on 34 felony counts. So far, this case appears to be moving at a slower pace. Judge Juan Merchan set the trial date in New York County for March 25th, 2024, which means Trump could be on trial in New York in the middle of Republican primary voting.
At the moment, there are a seemingly infinite number of possibilities in this election, much of which rests on how quickly these cases against the former President unfold.