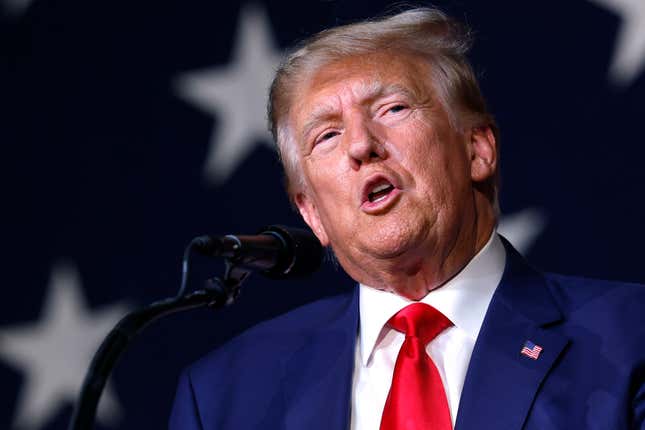 Donald Trump's legal woes in New York City have been sucking up most of the oxygen. But a bombshell revelation has all eyes on Florida. Last week, federal prosecutors indicted the former President on 37 criminal counts in the sunshine state. This is the first time any President, past or present, has been indicted on federal charges.
Donald Trump Must Never Hold Public Office Again, Period
What Was Trump Indicted For?
We don't gatekeep at The Root, so feel free to read the indictment for yourself. But if you'd like a little analysis, we've got you. Last Friday, special counsel Jack Smith, tasked with investigating Trump's handling of classified documents, unsealed a lengthy 49-page indictment. The indictment included 37 felony counts against the former President related to:
withholding national defense information
concealing his possession of classified documents
making false statements to the F.B.I.
Prosecutors allege that upon leaving the White House, Trump caused "scores of boxes" containing classified and highly sensitive military information to be carted off to Mar-a-Lago. Trump likely wouldn't be facing all of these charges if he'd simply handed the boxes over when the National Archives asked for them back a year later. But instead, he allegedly tried to pass off roughly 15 boxes as the entire collection and things only go downhill from there.
In March of 2022, the F.B.I. opened up an investigation into Trump's retention of classified documents, resulting in a grand jury subpoena requiring Trump to hand over the remaining documents.
Once again, prosecutors allege that Trump tried to hold on to the documents. Among other things, prosecutors say that Trump directed his aide, Walt Nauta, to hide 64 boxes from Trump's attorney, who was instructed to search for and return the missing documents to the National Archives. "I don't want anybody looking through my boxes, I really don't," Trump said, according to the indictment.
The hi-jinx continues with Trump claiming that he was fully cooperating the whole time. But in August of 2022, the F.B.I. raided Mar-a-Lago and got their hands on the remaining 102 classified documents.
Why Is This a Big Deal?
At this point, you might still be asking why this is such a big deal. I mean, who cares if Trump has a weird thing for hoarding boxes?
Well, for one, lying to the FBI is a serious crime. But it's also not like we're talking about top-secret White House party planning memos here. The classified documents included information about the United States' nuclear weapons program, our potential military vulnerabilities, and our plans in the event of a foreign attack—and Trump wasn't keeping them under lock and key. Photos included in the indictment show boxes of classified documents piled up in Trump's shower and ballroom for any of the tens of thousands of guests who came through Mar-a-Lago to find.
The indictment also alleges that in at least two instances, Trump shared these documents with guests and staff. In one instance caught on an audio recorder, Trump allegedly showed a writer, a publisher, and two members of his staff a "plan of attack" he said was drafted by the Department of Defense and a senior military official. None of these people had a security clearance. And he even seemingly admitted that the document shouldn't be in his possession at all. "As President, I could have declassified it," he allegedly said. "Now, I can't, but this is still a secret."
How Is This Different From the Biden Document Scandal?
What's happening with President Trump is fundamentally different from what happened with President Joe Biden. In January, it came out that Biden's attorneys had discovered ten classified documents at his old office in Washington D.C. from his time in the Obama administration. It then came out later that a "second batch" of documents was discovered in his home.
The main difference (aside from the volume of documents) is that from all accounts, Biden and his team worked swiftly to return the missing documents. Still, days later, Attorney General Appointed special counsel Richard Hur to investigate the matter. We haven't heard much of anything from Hur, but so far, these appear to be distinct cases since Trump is in legal trouble for allegedly withholding the documents and lying about it.
What Will Happen Next?
Trump will appear in court on Tuesday in Miami, FL. It won't be a whole lot different than his arraignment earlier this year in New York. Trump will turn himself in before the afternoon hearing, where he'll be fingerprinted and photographed.
At the hearing, Judge Aileen Cannon will read the indictment and Trump will enter his plea. After the hearing is over, Trump says he'll fly to New Jersey, where he's expected to give remarks at his golf club in Bedminster at 8:15 p.m. The trial if it comes to that, will also take place in Florida, which could be more favorable location for Trump who won the state in 2020. In theory, Trump could be imprisoned for decades if convicted.
What About All of Trump's Other Legal Problems?
As we said, this is hardly the only legal concern for the former President. Manhattan District Attorney Alvin Bragg indicted Trump on 34 felony counts in April. Fulton County District Attorney Fani Willis also appears to be closing in on Donald Trump in Georgia for election interference. And that doesn't include the fact that in civil court, Trump was found liable for sexual abuse. None of these legal problems are going away from the former President, who so far has held onto the favor of the Republican party.