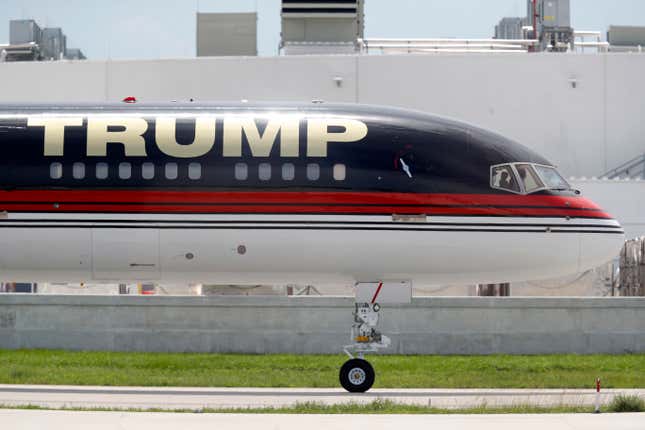 It's not every day a former President is arraigned on federal charges. In fact, Tuesday will be the first time that's ever happened. Donald Trump will be arraigned in Miami, Fla., this afternoon on 37 criminal counts related to his withholding of sensitive national secrets and the alleged cover-up.
Donald Trump Might Actually Face The Music For His Alleged Hush Money Schemes
But how exactly will it all play out? The Root will walk you through all of the details of this historic arraignment.
What Happens at the Arraignment?
This isn't Trump's first time turning himself over to the authorities. Earlier this year, the former reality star was arraigned on criminal charges brought by Manhattan District Attorney Alvin Bragg. This time won't be super different.
Upon his surrender this afternoon, Trump will be fingerprinted by the U.S. Marshals Service. Officials told CBS News that he will not get a mugshot. Although, there reportedly hasn't been a determination over whether his passport will be confiscated to prevent him from fleeing the country.
Trump is expected to arrive at court around 3 pm ET. Magistrate Judge Jonathan Goodman is overseeing the arraignment. However, the trial itself has been assigned to Judge Aileen M. Cannon, who has ruled favorably for Trump in the past.
Who Is the Judge in Trump's Case?
The judge, in this case, has been a massive part of the controversy. Judge Cannon, who will oversee the trial, was appointed to the district court by Trump. What's more, Cannon issued a series of rulings in previous cases related to the F.B.I's search of Mar-a-Lago that have been incredibly favorable to Trump. Her actions, in that case, were heavily criticized by the three conservative circuit court judges who reversed her decision in the Trump case. They wrote that her approach violated the "bedrock separation-of-power limitations."
New cases are randomly assigned to district court judges, which means it's not like Cannon elected to be on the case. Unless she recuses herself, the chief clerk, Angela E. Noble, told The New York Times that Cannon will remain on the matter. However, calls have been growing for her to recuse herself.
What Is Going on With Trump's Attorneys?
Another interesting twist in this case, thus far, has been Trump's inability to find lawyers willing to represent him. Trump had reportedly been searching for new counsel ahead of the arraignment. Unfortunately for him, no one seems to want to be his attorney.
Trump will be represented by his current attorneys despite reportedly spending the afternoon yesterday interviewing local counsel. Several prominent attorneys reportedly turned down Trump's request to work with him.
"The problem is none of us want to work for the guy," one federal criminal defense attorney in the Southern District of Florida told The Messenger. "He's a nightmare client."
What Happens Next?
Trump won't let anything like a federal indictment get in the way of raising money. The former reality star and Republican frontrunner is hosting a fundraiser at his Bedminster, New Jersey, golf club. Prior to the fundraiser, Trump is expected to deliver remarks from Bedminster, addressing the indictment.
As for his presidential run, Trump appears to be just as popular as ever with Republicans. Roughly 76 percent of GOP primary voters polled by CBS News say the indictment was politically motivated. And approximately 61 percent of likely GOP primary voters in the poll say that they will vote for him.
Why Is Trump Being Charged With a Federal Crime?
Just in case you missed our explainer on why Trump was indicted, here's a quick recap. On Friday, special counsel Jack Smith unsealed a 49-page indictment accusing Trump of withholding key national security information and engaging in a pattern of obstruction of justice.
Prosecutors allege that after leaving the White House, Trump did everything in his power to illegally hold on to classified information with grave national security risks. The indictment also accuses Trump of lying to the F.B.I to conceal the documents and sharing top secret military intelligence with guests and staff at his Mar-a-Lago beach club.
Keep checking back here for the latest on all things indictment and the circus formally known as the 2024 Presidential election.