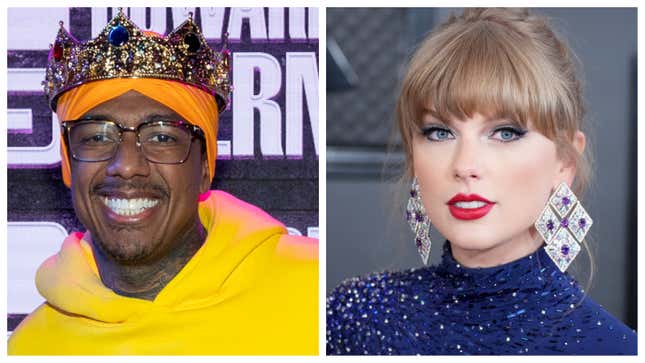 Just days after country music star Taylor Swift confirmed her split from longtime beau Joe Alwyn, it looks like there may be a new contender stepping up to the plate: the one and only Nick Cannon.
During a recent interview on Sirius XM's The Howard Stern Show, the Wild'n Out host discussed whether or not he was finished having kids. (You know, seeing as how he's currently a father of 12.) While Cannon admitted to being very happy with the children he already has, he did say that the next woman he had a child with would have to be "amazing."
When host Stern proposed Swift, Cannon jokingly responded: "Absolutely, I'm in. Let's go. That's the one! Me and Taylor's numbers are very similar when we're talking about being in these streets. So, I think she would relate to me very well. We probably would really understand each other."
Uh-oh! Watch out now. Talk about a collab nobody would ever see coming. What would you even call that fan base? Swiftnickies? Nifties? It's 2023 though, so I suppose it'd be dumb not to expect the unexpected at this point. However, that doesn't mean folks wouldn't be shocked by this pairing, hypothetical or not.
All jokes aside though, later in the interview, Cannon said that he was taking this time to focus on himself and his children.
"I'm not out there like that. I'm really trying to focus on myself and my children," he explained. "My bandwidth doesn't even allow me to kind of be in that space. It sounds wild, but my main focus is either my children or work."