Michigan authorities are looking for a 19-year-old woman who reportedly fought with a rival and then hit the victim with her car as she drove away.
According to MLive, police have issued an arrest warrant for Jalin Smith-Walker, who was also involved in a separate incident late last year in which she and another woman allegedly slammed a car door on a mall security guard and then dragged that guard some several feet. She and the woman were allegedly shoplifting.
Footage of Smith-Walker's latest incident on April 6, which was recorded and posted to WorldStarHipHop, appears to show several people in the street and two women—one of whom, police say, is Smith-Walker—engaged in a fight.
The melee is broken up, and Smith-Walker gets into her car and starts to drive off when the victim, also 19, appears to step in front the vehicle with a large object before she is hit.
According to MLive, the victim suffered minor injuries and was released from the hospital the same day. Smith-Walker "is sought on a charge of assault with intent to do great bodily harm less than murder."
G/O Media may get a commission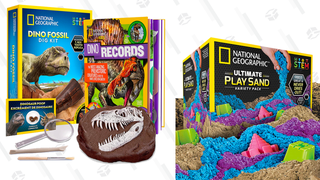 Up to 33% off
National Geographic Science and Activity Kits
Police don't know what caused the altercation but added that the two were friends. "It was a fight between two former friends," Grand Rapids Police Sgt. Terry Dixon told MLive. "It ultimately ended with blows being thrown," he said.
Police added that Smith-Walker was also charged with unarmed robbery for the earlier incident, on Dec. 30, in which she allegedly dragged a security guard at Lakes Mall in Muskegon, Mich., with her car. MLive reports that Smith-Walker and another woman were followed into the parking lot by the guard, who believed that the pair had been shoplifting.
"Police said Smith-Walker was driving a vehicle when her alleged co-conspirator, Minnie Andrea Jackson, 20, jumped into driver's side back seat. Jackson allegedly shut her door on the guard's left arm as he tried to intervene, then he was dragged several feet," according to the news site.
The guard suffered minor injuries, according to MLive.
Read more at MLive.