A Venezuelan tourist was acquitted of shoplifting at a flagship Macy's store in New York that has been the target of claims by several black shoppers that they were racially profiled there, her lawyer said.
According to the Associated Press, Maria Paez said that during a Sept. 12 trip she carried a few items around the store, then put them in a Macy's bag. She was soon handcuffed and held in a store detention cell for hours. She said that her 12-year-old son was in the store and was never notified that his mother had been detained. Her attorney, Daniel Hochheiser, says that Paez was pressed to sign a confession and pay $500.
Paez faced misdemeanor charges carrying penalties of up to three months in jail.
According to AP, Paez, whose family reportedly owns real estate and a pet-food company in Venezuela, believes that she was targeted by Macy's security guards because she spoke Spanish and answered back to someone she said was a rude fitting-room attendant.
"She stuck up for herself, and they didn't appreciate that a foreigner was actually going to talk back to them, and they were going to teach her a lesson," Hochheiser said.
A Macy's spokeswoman had no immediate comment.
A series of complaints by black shoppers have spotlighted long-simmering questions about security practices and profiling at Macy's and other major retailers in New York. The phenomenon has become known as SWB or "Shopping While Black."
G/O Media may get a commission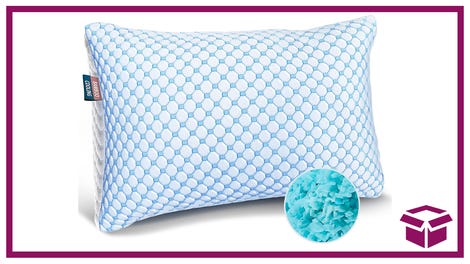 23% off
Nestl Cooling Pillow - Queen Size
One of those detained at Macy's and accused of stealing was actor Robert Brown, who starred in the HBO drama series Treme. Brown said he purchased a $1,300 watch for his mother for her college graduation but then was held for almost an hour and grilled about the purchase. He was eventually released without charges, AP reports.
Brown and at least eight other customers have filed lawsuits saying the store wrongly targeted minorities, detaining some customers for hours.
Macy's has said it does not tolerate discrimination.
Read more at the Associated Press.