Updated Wed., July 29, 3:15 p.m. EDT: Officer Ray Tensing is in custody and reportedly broke down in tears when he was notified that he was being charged with murder in the death of Samuel Dubose, according to his lawyer, Stew Mathews, NBC 12 reports. 
Tensing reportedly turned himself in and will be arraigned Friday, according to the news station.
"Ray Tensing's a good kid, an excellent officer who is in a bad situation at this point," Mathews said.
Prosecutor Joe Deters told those gathered at a news conference that he hopes Tensing gets life in prison. "I think he lost his temper because Mr. Dubose wouldn't get out of his car. When you see this, you will not believe how quickly he pulls his gun and shoots him. It's so senseless," Deters said.
"I feel so sorry for his family and what they lost, and I feel sorry for the community, too, because we've worked so hard to develop great police relationships with the community, and to have this type of a senseless act take place in Cincinnati. This doesn't happen in the United States, OK? This might happen in Afghanistan or somewhere. This just does not happen in the United States," Deters added. 
G/O Media may get a commission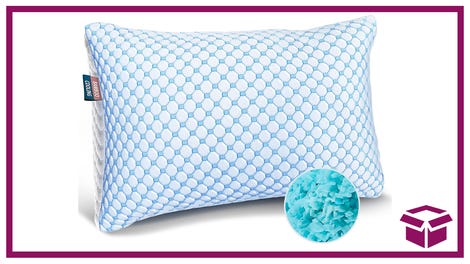 23% off
Nestl Cooling Pillow - Queen Size
Earlier:
Officers are currently planning to arrest University of Cincinnati Police Officer Ray Tensing after a grand jury indicted the officer in the shooting death of Samuel Dubose during a July 19 traffic stop.
"He purposely killed him," prosecutor Joe Deters said in a press conference regarding the officer's actions during the traffic stop, according to Cincinnati.com. "He should never have been a police officer."Deters says his office purposely withheld the body-cam footage from the public so that Tensing, 25, didn't have a chance to change his story after seeing the tape. Deters said that his office reviewed hundreds of police shootings, adding, "This is without question a murder," according to Cincinati.com.
On July 19 Tensing pulled over the 43-year-old Dubose about a mile from the university because he did not have a license plate on the front of his vehicle, authorities revealed Monday.
During the traffic stop, which occurred about 6:30 p.m., Tensing and Dubose, a father of 13, allegedly had some sort of struggle through the window. According to reports, Dubose refused to leave the vehicle. He allegedly started to drive away and Tensing fired several shots. Dubose was pronounced dead on the scene. 
When asked about the officer's claim that Dubose used his vehicle to drag the officer, Tensing scoffed, stating that the officer's account was "nonsense" and adding that the officer fell backward only after he shot Dubose in the head.
Cincinnati.com notes that this is the first time an officer involved in an on-duty shooting has been charged with murder. Tensing faces 15 years to life in prison if found guilty.
Watch video from the officer's body cam below (NSFW; contains graphic images):
Read more at Cincinnati.com.