Amid new allegations that Dr. Ronny L. Jackson, President Donald Trump's embattled pick to run the Department of Veterans Affairs, drunkenly crashed a government-issued vehicle and kept haphazard prescription records, Jackson has withdrawn his name from consideration for the post.

"The allegations against me are completely false and fabricated," Jackson, the White House physician, said in a defiant statement, the Washington Post reports. "If they had any merit, I would not have been selected, promoted and entrusted to serve in such a sensitive and important role as physician to three presidents over the past 12 years."
Well, it appears that Capitol Hill Democrats had some accusations that got the white doctor with the inherently black name to withdraw his name from consideration. On Wednesday the Democratic staff of the Senate Veterans' Affairs Committee released a two-page document that it claimed was a summary of interviews with 23 of Jackson's current and former colleagues and alleged that ol' Ronny L. Jackson got drunk at a Secret Service going-away party and then wrecked a government-issued vehicle, a claim Jackson denied.
The report claimed that nearly everyone interviewed voiced concerns about Jackson's behavior and character. According to Politico, which viewed the report, Jackson was accused of giving out sleeping pills without a prescription and keeping very little record of who was receiving medications. Among the accusations made in the report, Politico cited the following:
He oversaw a work environment where subordinates lived in "constant fear of reprisal." The document includes many negative descriptions of Jackson, including as "unethical" and "explosive," and paints a picture of someone who sucked up to superiors and kicked down to lower-level employees. "I have no faith in government that someone like Jackson could be end up at VA," a physician told the committee.

Jackson was drunk on duty overseas multiple times. He was supposed to be on call but on at least one occasion could not be reached. He also drunkenly wrecked a government vehicle at a going away party for a Secret Service member.

G/O Media may get a commission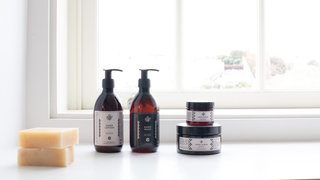 Exfoliate and Hydrate
The Handmade Soap Company
Some Republicans were ready to fight for Jackson's nomination, including Senate Majority Whip John Cornyn (R-Texas), who said that Jackson shouldn't let anonymous accusations destroy his career.
"I don't think somebody ought to have their career destroyed over anonymous accusations, so that's why I think the investigation is so important, so we can find out what the facts are," Cornyn told Politico. "We can deal with the facts, whatever they are, but just to hound somebody out just because somebody can make an accusation is unfair."
Doesn't matter now; for whatever reason, Jackson has withdrawn his name from consideration, making him, at least, the 24th unsuccessful Trump nominee to a post that requires Senate confirmation.