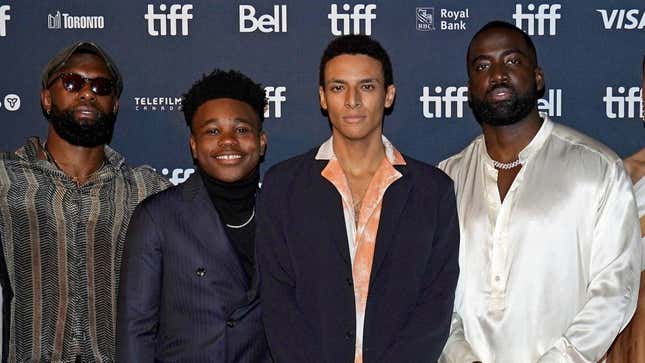 In Bruiser, the feature directorial debut from Miles Warren, Till's Jalyn Hall stars as 14-year-old Darious, a young teen searching for answers to internal questions he's yet to fully flesh out.
What does it mean to be a man? How do I define myself or my masculinity? To whom should I lean on for guidance and steering?
When we first meet Darious' support system, the answer seems to lie with his strict step-father Malcom, played phenomenally by Bruised star Shamier Anderson. However, it becomes clear that Malcom's definition and expression of manhood doesn't align with what Darious thinks he needs. Enter Porter, then played by a tense yet sensitive Trevante Rhodes, a mysterious drifter the boy meets in the woods after a fight with his friends. He's free-spirited, detached, physically intimidating and somehow connected to Darious and his family.
As the film progresses, we see exactly what role Porter played (or didn't) when it comes to Darious' life and the tug-of-war between two father-like figures who love this young child—but are too caught up with establishing influence and lowkey dominance over a malleable mind to see that. As issues from their own complicated pasts threaten to ruin each relationship, it ultimately becomes up to Darious to take the wheel of his own life and find the drive within himself in order to truly evolve.
The Root got the chance to chat with Warren, Hall, Anderson and Rhodes ahead of Bruiser's release on Hulu where they discussed the film's surprising ideation, the draw to their characters and more.
This interview has been edited and condensed for clarity.
The Root: Miles, what was the impetus behind telling this coming-of-age story in Bruiser?
Miles Warren: I started writing it with a friend of mine when I was in college, my friend Ben Medina, a brilliant writer. And I came to him with the idea of—I was very interested in World Star fight videos and YouTube fight videos. That's kind of a weird place to start but I was really interested in how Black and brown men and women fighting is often played for comedy. And I get the comedy of it but it's also always so horrific and embarrassing and scary. And I wanted to find a way to kind of capture that in the story somehow. I came up with the idea of what would happen if a Black boy who's coming of age had two father figures enter into some sort of altercation in front of him? And see that publicly broadcasted and talked about by people he knew and how that would affect his journey, his search for his masculinity and him as a person.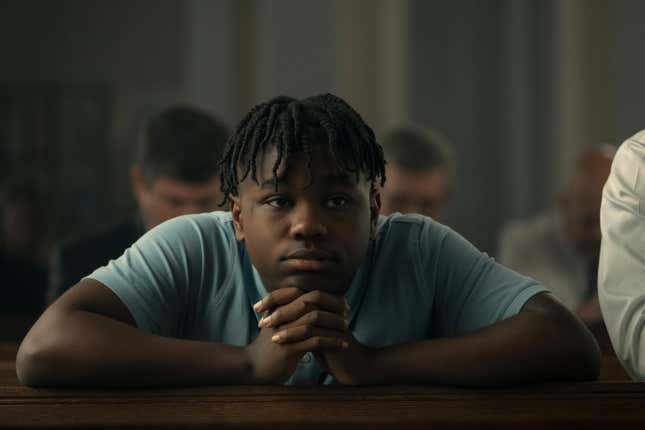 TR: What drew you to your respective roles?

Jalyn Hall: The message for me was the one that really got to me because I grew up with just my mom. I never really had a sort of father figure to teach me things. So I kind of just really learned on my own and through my mom, she had to play both roles. When I looked at the script, it was refreshing to see that there were two father figures that wanted to be there, but ultimately couldn't get over themselves. But that was something that played a lot into who I was, who I've become because of that situation. So that was something that drew me towards it too.
Shamier Anderson: When I dive into roles, I really want to go off the deep end, truthfully and making sure that I'm truthful to every character I play. So when I was presented with the script for Bruiser, that Miles Warren wrote and directed, the character was just written as your average dad. I had a choice [on] if I wanted to go the more conventional, handsome route. You know, clean cut, cashmere sweater.
But I felt given the story, the background of him being this worn and torn dad who had to continue to work to try to make ends meet for his family—I thought how does stress manifest? For me, for Malcom, it manifested in hair loss. That's why he's bald. Why did he wear glasses? That was a choice because I felt like he needed that barrier so people didn't look at him in his eyes because he feels inadequate. He feels insecure, he doesn't feel like a real man. All of those elements were a part of my process.
Trevante Rhodes: It was really the piece in its entirety. As a man, I relate to both Porter and Malcom. When it came to me, it was just before my son was born so it was really just this all-encompassing, beautiful, poetic piece that I could dedicate to my son. As well as jumping in and getting to work with someone like Miles. He's really—I personally think Miles is somebody everybody needs to pay attention to because he's really just an incredible artist.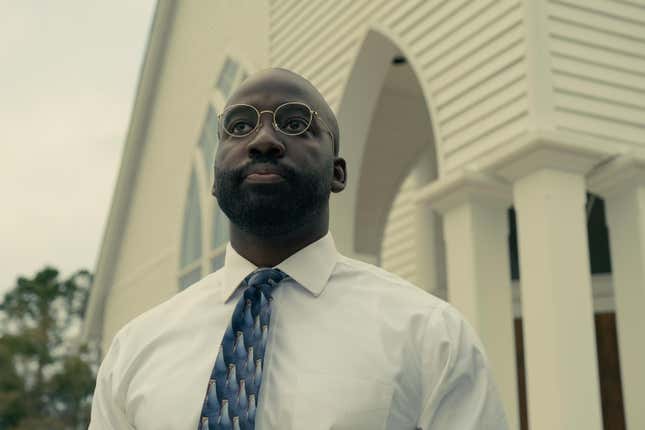 TR: How much of yourselves did you see or did you put into your respective characters?

SA: Usually you're playing parts where there's parts of you in your character. Some characters you have to go completely off the deep end and some characters are parallel to who you are. For this one specifically, being a step-father—which I'm not—I used the lived experience from my mother. My mother was my father, my mother was my mother. She raised three boys on her own. And the ambition that Malcom had to make his family great, to do well for his family is the same ambition my mother had and still has today—being an immigrant from Jamaica. So I used her lived experience, my lived experience growing up. But a lot of that stuff, I had to do some research.
TR: I just relate to Porter's freedom. His need for—the ability at least to be unattached. The ability to just be able to do what he wants, to be able to do what he needs. Me personally, I don't have any agents, I don't have any managers. I don't have any hands trying to coerce me into doing anything that I don't want to do. I like handling my own business. So that aspect of things was something I really gravitated towards in Porter specifically.
JH: This particular story, while in some ways did apply, it also did not. That tense and that war between fathers is something that was purely created for the project. But also that seeking of mentorship, that was easy. Luckily I've been learning from my surroundings, of course my mother, my previous dealings whether it be my work or just finding philosophy myself—anything like that is making me into who I am.
Darious is seeking that as soon as you see him hop into the car and sometimes you get it [mentorship] but it's not in the way that you need. Or in the way that you feel you need, but you can't say that. And I have definitely been through some spots with that as well. But in the parts where it gets really deep and there are a lot of emotions going out, I can honestly say, those are the things that are very close to me. And the things that are a bit theatrical are the things that Jalyn has acquired through this whole process. And I had a lot of fun doing them.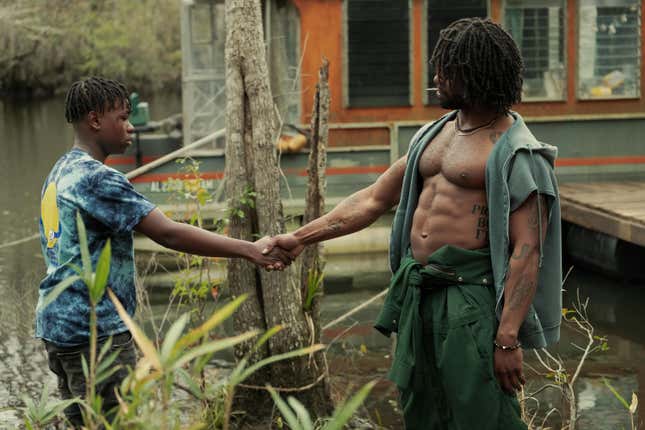 TR: The film has a lot of tense moments. Did you find any difficulty tapping into those emotionally taxing scenes while filming?

SA: It was real difficult overall, specifically sharing the screen with Trevante—who is a hulking figure and I say that with the utmost admiration (laughs). But I say that to say, with Tre, I didn't speak to him onset. And that was the difficult part because obviously I want to get to know him, I'm a fan of his work. And the reason why is because of the tension with their characters needed to felt in every frame they're onscreen together. And so in order to keep that electricity alive, I felt it was important to not engage with him socially, off-set. I think it yielded the results that we wanted.
TR: I won't say it was taxing, it's more of a therapeutic opportunity to really have a piece like this. Whenever you have someone who puts that particular depth of emotion into something it's just allowing yourself to be a vessel. So I always just ride the wave.
Bruiser, starring Jalyn Hall, Trevante Rhodes, Shamier Anderson and Shinelle Azoroh is available to stream now on Hulu.