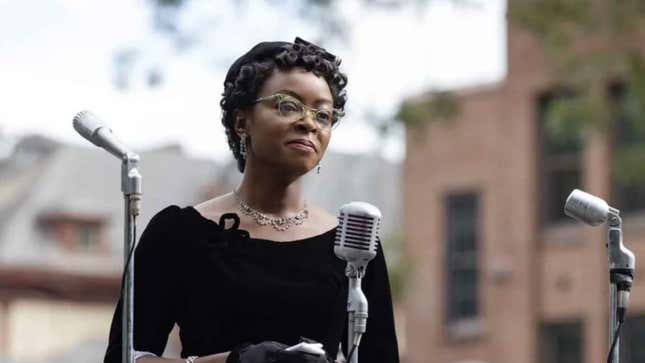 Nominations for the 2023 Oscars may have been revealed on Tuesday morning, but that doesn't mean the dust isn't still settling in response to it.
Is That Black Enough for You?!? Is Our TV Pick This Week
While a handful of our Blackity-black favorites were recognized for their contributions in film, Till star Danielle Deadwyler—who's been racking up nominations this awards season—was noticeably absent. In fact, neither she nor the film itself saw any love from the Academy, which prompted statements from fellow star Whoopi Goldberg, director Chinonye Chukwu, and the family of Emmett Till themselves.
In a statement to TMZ following the nominations reveal on Tuesday, Till's cousin and co-founder of the Emmett Till Legacy Foundation, Deborah Watts, explained that Deadwyler "embodied and delivered the true essence of our cousin, a loving and courageous mother, Mamie Till Mobley. She reached deeply and poured her heart and soul in this role as she embraced us intimately like no other, while transforming into Mamie and bringing her true essence and story to life."
"The Emmett Till Legacy Family and community of supporters will ensure Emmett and Mamie's legacies and story will continue to be told with or without any awards," she concluded.
Director Chinonye Chukwu also made a statement after seeing the snub in a post to Instagram on Tuesday, saying:
"We live in a world and work in industries that are so aggressively committed to upholding whiteness and perpetuating an unabashed misogyny towards Black women. And yet. I am forever in gratitude for the greatest lesson of my life - regardless of any challenges or obstacles, I will always have the power to cultivate my own joy, and it is this joy that will continue to be one of my greatest forms of resistance."
Additionally, Whoopi Goldberg reacted to the film's erasure during Tuesday morning's episode of The View, pointing out that Till wasn't recognized but congratulated other projects and people who were nominated.
Deadwyler's absence in the Best Actress category was also met with outrage and scrutiny online as neither she nor usual awards-staple Viola Davis and her epic action film The Woman King made the cut.