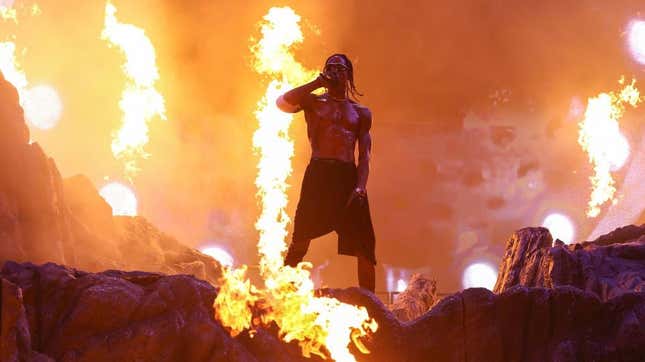 Although hip-hop fans are enjoying Travis Scott's fourth studio album, UTOPIA, the rollout for the record has been anything but smooth.
Cedric the Entertainer Shares Details Of His First Crime Novel & Tackles Our Random Rapid Fire Questions
Weeks before the project's release, the Houston rapper announced that he would be hosting a launch event at the Pyramids of Giza in Egypt on the night the album was set to release, July 28. The event was going to be the first opportunity for fans to listen to his upcoming studio album.
Fans were so excited that they would joke on social media about selling their homes so they could afford a ticket to Egypt and watch Scott perform. Jordan Brand even held a "Road to Utopia" sweepstakes, which would give 23 pairs of fans a chance to win a trip to Egypt for the launch event and a two-night hotel stay at Marriott Bonvey.
But just days later, the event was reportedly canceled by the Egyptian General Syndicate for Musical Professions due to "societal values and traditions" and concerns about "peculiar rituals."
While Live Nation initially refuted the reports that Scott's Egypt show was canceled, they stated just days before the show was set to take place that "complex production issues meant that the show could not be constructed in the desert."
But now that the album is out and fans have been able to absorb and enjoy it, Scott has announced a new concert date and location for UTOPIA.
On Tuesday, the Houston rapper announced that the concert would take place on August 7 at the Circus Maximus in Rome, Italy.
I guess that's what you can do when you're a music superstar, just substitute one historical location for another. It's also fitting considering that one of the most polarizing tracks on the album is "CIRCUS MAXIMUS."

While tickets have not been released yet, they are sure to sell out as soon as they are available.
Even though Scott is enjoying a mostly positive reception to UTOPIA, the Astroworld rapper is still dealing with things from his past.
Earlier this week, Scott's lawyer, claimed that the release of a Houston Police Department report on the Astroworld tragedy was meant to hurt sales of the rapper's latest album since it was released the same day.
The Houston police chief has refuted those claims and the lawyer for the family of Ezra Blount, a 10-year-old boy who was trampled to death at the 2021 festival, disparaged the statement from Scott's lawyer, saying that his comments were "tone-deaf."