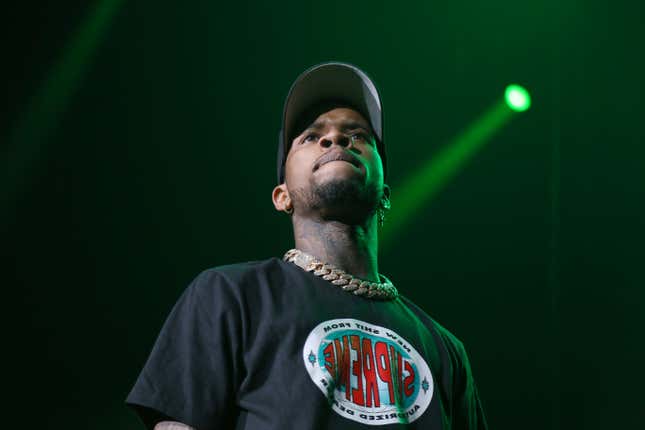 Update on 8/11/2023 at 1:15p.m. PT: OG Houston rapper and UGK member Bun B is speaking out in response to Tory Lanez's statement following his 10-year prison sentence for shooting fellow rapper Megan Thee Stallion.
Will The Real Black Journalists Please Stand Up
Speaking with TMZ on Thursday, Bun B told the outlet that the unfortunate incident should be looked at as a "wake-up call for violence against women."
"I think it's a wake-up call for violence against women," he stated. "I don't think this has anything to do with Hip Hop. If there were nobody in Hip Hop involved in this, this would still not be a good thing for us to see in this world right now."
For Lanez specifically, Bun had this to say: "Look man, just keep your head up, you know? Obviously, Tory might not be the biggest fan of mine, but I don't wish prison on anybody and I hope he comes home safe."
That "might not be the biggest fan of mine" comment is especially important and telling of Bun's integrity, especially when you consider the fact that the Houston rapper was very outspoken against the "Say It" rapper when the news of the shooting initially came out. Though there have been very few in the hip-hop community who have lended their support to Thee Stallion, Bun B was one of the ones who made it plain and simple Lanez's actions weren't cool.
"Fuck Tory Lanez, and I don't care if this go viral or none of this shit," Bun B said in an Instagram video back in 2020, per Complex. "I'm from Houston and if somebody would have done something to Megan in this city, we would've rode."
He continued:
"She ain't got her momma no more, her momma is gone. Her daddy is gone. Her grandmother is gone. All the people that loved her and cared about her unconditionally that looked out for her and would have protected her ain't there. So, as an OG in Houston, I'm standing up. Tory Lanez is some ho ass shit. Period. Yeah, I know Tory. I know his manager. I know all of 'em, man. Fuck all that though. Fuck all that...

...But nobody is talking about it because it's a Black woman. And y'all can say what y'all want. That's just what it is."
See original story below.

Despite reportedly feeling "pretty low" following his 10-year prison sentence for shooting Megan Thee Stallion in 2020, rapper Tory Lanez is feeling no remorse.
In fact, in a new statement posted to his official Instagram on Thursday, the "LUV" rapper maintains his innocence and outright refused to apologized for something he allegedly didn't do.

"I have never let a hard time intimidate me, I will never never let no jail time eliminate me. Regardless of how they try to spin my words, I have always maintained my innocence and I always will," the statement began.
Lanez continued: "Tough times don't last, toughThis week in court, I took responsibility for all verbal and intimate moments that I shared with the parties involved...that's it. In no way, shape or form was I apologizing for the charges I'm being wrongfully convicted of. I remain on the stance that I refuse to apologize for something I did not do.
I've faced adversity my whole life and every time it looked like I would lose, I came out on top. This is nothing but another moment where my back is against the wall and I refuse to stop fighting until I come out victorious. people do. To my family, friends, and umbrellas, thank you for your continued support. See you soon," he concluded.
Of course, this doubling down should come as no surprise to any of us, especially seeing as how there were so many twists and turns and delays that took place to even get to his sentencing hearing. A statement like this should also be expected considering the fact that his lawyers have admitted their plans to pursue an appeal.
Additionally, the names of some of the 70+ people who wrote letters of support for Lanez are slowly being revealed. As previously reported by The Root, we told you how rapper Iggy Azalea, Lanez own father and son penned letters. Now, per legal affairs journalist Meghann Cuniff, popular R&B singer Mario has also been revealed as one of the writers as well.
"The situation at hand comes to the surprise of so many of us who know Tory personally," Mario wrote in part. "I have never seen Tory act out of character in a manner to hurt someone. We've spoken on the phone many times and prayed with each other. All I can ask and pray for is that he and his son are treated fairly."