Former FBI Director James Comey is a thot. He went from being head of the principal federal law enforcement agency to backing it up and dropping it low in the 2016 presidential election, to shilling his book of White House secrets and groupie tales on late-night talk shows.

On Tuesday, Ghostface shared a photo of himself and Method Man posing with the former FBI director backstage at The Late Show With Stephen Colbert. Ghostface noted on his Instagram post: "Me and my brother […] Workin on getting that album back from the feds."
Let's hope that that is what's happening here because anything else is looking mad suspect. Which is why the photo is weird; by definition, rappers and law enforcement are diametrically opposed. Rappers flaunt bad-guy lifestyles; the head of the FBI works to bring down the drug empires that rappers glorify.
Comey was once the top cop in charge of shutting down operations that most likely listen to Wu-Tang's music. The photo is also weird because before Comey was fired, there would never have been a picture of the FBI director cooling out with rappers. The photo is really weird because the 6-foot-8-inch Comey towers over both Ghostface and Method Man, which isn't really weird, it's funny.
G/O Media may get a commission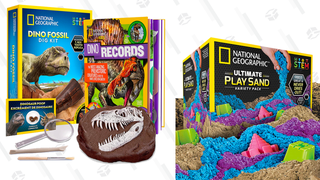 Up to 33% off
National Geographic Science and Activity Kits
Let's hope that the rappers were actually talking with Comey about the release of Once Upon a Time in Shaolin, the Wu-Tang album made famous after the hip-hop supergroup created buzz by making one copy of the double album, which was purchased by notorious asshole "Pharma Bro" Martin Shkreli in 2015.
In 2016 Shkreli considered destroying the album but never got the chance to do so.
According to Complex, "Following his seven-year prison sentence for securities fraud last month, Shkreli was ordered to hand over more than $7.3 million in assets, including a Picasso painting, a share in Vyera Pharmaceuticals, his copy of Lil Wayne's yet-to-be-released Tha Carter V, as well as Once Upon a Time in Shaolin. All of these assets are reportedly in the hands of Attorney General Jeff Sessions."
Wu-Tang's RZA told Rolling Stone that he's tried to get the album back but he's contractually prohibited from buying it back.
"I've actually tried to get it back," he said. "I've lost fans because they think I've done something that was out of the nature of what Wu-Tang is. I think they're wrong, but they will have their opinion, right? They felt that we tried to make music become something that only the elite can have, and that's far from the reality."
I'm starting to think the fans criticizing Wu-Tang's elitist album are right, considering that the only person to have heard the entire album is the Pharma Bro asshole, and now it's in Jeff Sessions' possession and Ghostface and Method Man have to kick it with former FBI Director James Comey in hopes of getting it back.