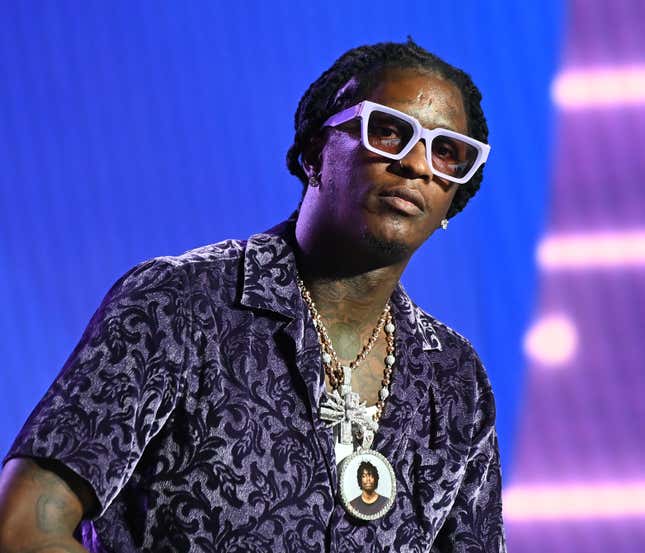 As rapper Young Thug and various members of the Young Stoner Life (YSL) gang still face charges in connection to a 56-count indictment, things in the case took yet another weird turn.
How Atlanta Produced A Cheesesteaks Empire With A Little Help From A Vegan & Rapper Eve | Securing the Bag
Per Complex, the latest absurdity stems from one attorney's request to not have video of an arrest of co-defendant Shannon "SB" Stillwell shown during the trial. While this request may seem small, the video reportedly shows the arrest going down during a religious ceremony involving the alleged sacrificing of goats. Yes, actual goats. Stillwell's legal team argued that the video isn't necessary to show during the trial as it will only inspire further prejudice.
This is just the latest strange turn in the topsy-turvy case that's seen more bizarre moments than an episode of Black Mirror. As previously reported by The Root, those moments include a drug hand-off in the middle of a court hearing, a lawyer threatening to create an OnlyFans account, Young Thug releasing an album from jail; a judge threatening to arrest members of rapper Gunna's family (for context, as a member of YSL, he was also facing charges and jailed but has since been released after taking a plea deal); a teenager threatening to murder a sheriff and his wife if Young Thug wasn't released; and the rapper somehow getting sued while behind bars.
Thug and other YSL members are accused of conspiring together to obtain money and property illegally through a pattern of racketeering. They face numerous charges, including conspiring to violate the Racketeer Influenced and Corrupt Organizations (RICO) Act, murder, armed robbery and criminal street gang activity.