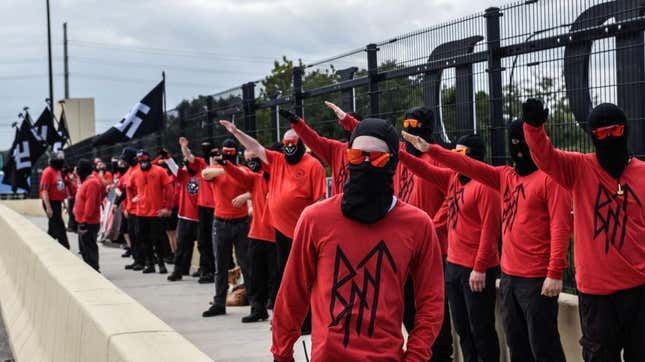 Trigger Warning: This story contains quotes of racist and homophobic slurs.

Those damn neo-Nazis. They just have to express their racist, sexist, homophobic, bigoted, discriminatory, white supremacist views wherever they go.
Comedian London Hughes Talks New Book, Parents Watching Her Very Sexual Comedy, & Beyoncé
But over the weekend, one Black person who encountered them was not having it.
On Saturday, a neo-Nazi group was seen marching off a highway near a suburb of Orlando, Fla. In videos taken by residents and journalists, the Nazis who were holding swastika flags can be heard shouting, "Faggots!" and "White Power!" over and over again while also doing the Nazi salute.

More than halfway through the clip, you can also hear another demonstrator yelling, "Vote for Ron Desantis!"

But as a Black man drove past the demonstration, he slowed down to make his thoughts known and yelled at the neo-Nazis through a speaker he had in his car. As seen in the video, when it was clear he was slowing down to address the group, many of the marchers started to scream, "Nigger! Nigger!"

In response, the Black man, who was seen driving a Black truck, smiled and yelled, "Why y'all got on masks though?! Why y'all got on masks though?! Why y'all got on masks though?!"
According to Newsweek, the people "protesting" are members of the Goyim Defense League (an antisemitic hate group), and the Blood Tribe (a neo-Nazi group).

As we learn more details about the shooter in the tragic Jacksonville incident and Newsweek reports that the Orlando area specifically has been the site of more far-right protests, it's clear that members of these hate groups are becoming more and more brazen (even if they wear masks to cover their faces).
Ryan Christopher Palmeter, the person who fatally shot three Black people in Jacksonville, Fla. last weekend used a swastika-emblazoned assault rifle and yelled racial slurs at the victims before killing them.
As we know, from previous hate crimes, it just takes one dangerous white supremacist to cause a lifetime of pain to groups they don't see as part of theirs.
How do we counteract that violence to ensure that vulnerable demographics, most notably Black people, stay safe?