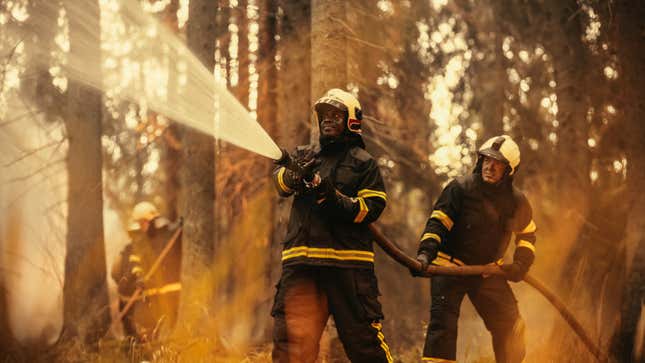 Do you have a passion for sweltering heat and rescuing kittens from trees? Well, you might want to give the U.S. Forest Services a call.
"Dip The Pen In Your Own Blood": How To Find Success As An Author | Securing the Bag: Part 2
As it turns out, Black folks are seriously underrepresented among this nation's firefighting force. However, an initiative spearheaded by historically black colleges and Universities and the U.S. Forest Services is working to change that.
A class of twenty U.S. Forest Service interns were pulled from four HBCUs across the country to learn how to fight fires in the sweltering Alabama heat this summer. And while it might not sound like the ideal break for those of us who prefer sitting poolside and sipping spritzes, it couldn't come at a more important time.
As anyone who was blanketed in smoke this summer can attest to, it's been a rough start to fire season. Couple that with the fact that climate change is only making things worse (especially for Black folks), and the urgency makes sense.
The consortium between the U.S. Forest Service and Florida A&M University, Southern University in Louisiana, Tuskegee University, and Alabama A&M University aims to train the next generation of firefighters. The initiative builds off of decades of previous work to train Black Americans in firefighting and forest management. For example, in 1993, Alabama A&M created the USDA Forest Service Center of Excellence in Forestry school. But there's still a ton of ground to make up.
According to data from the U.S. Forest Services obtained by the Associated Press, Black Americans make up around 1.3 percent of all fire personnel. Black women make up roughly half a percent of the U.S. firefighting force.
It's too soon to tell if those numbers will be turning around any time soon. There are a ton of barriers to entry, including low pay and poor work-life balance, to entering the U.S. Forest Services firefighting department. But in the face of an impending climate crisis where Black Americans will undoubtedly be on the frontline, efforts like this may make a ton of sense.