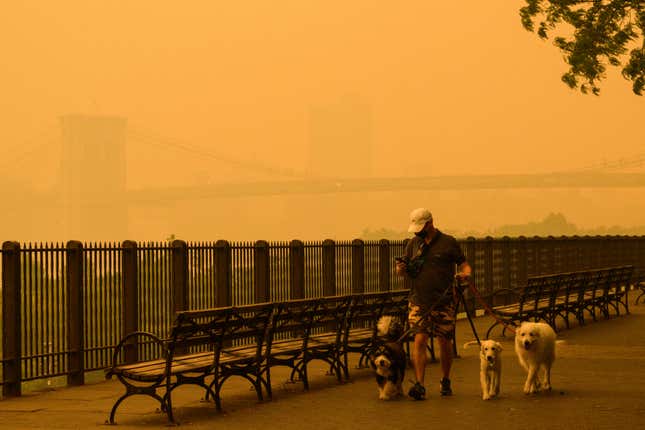 It's never a great sign when an entire city smells like one giant bonfire. It's even more alarming when the New York City skyline looks like something out of a gritty post-apocalyptic movie. But as it turns out, we're not starring in a bad remake of Mad Max (at least not yet). Smoke from hundreds of wildfires burning in Canada has made their way south, blanketing much of the country in a thick haze.
Dr. King's March on the Ballot Boxes Is Under Threat Today
Obviously, no one sees an orange-gray skyline and thinks, that looks right. But how dangerous is it? Well, let's put it this way, it's certainly not good for you.
Is The Wildfire Smoke Dangerous?
On Tuesday, the World Air Quality Index ranked New York City as the most polluted major city in the world. And the Environmental Protection Agency has the city and much of the northeast and Mid-Atlantic squarely in the unhealthy zone for air quality.
The main culprit for this poor air quality is tiny particles known as PM2.5. These pollutants, which were released by the wildfires, have a wide range of nasty health impacts. People with lung problems, heart problems, children, and older adults are all especially at risk when PM2.5 levels are high. But they're not the only ones who should be concerned.
Short-term exposure to high levels of PM2.5 can cause mild health effects such as throat and lung irritation, sneezing, runny nose, shortness of breath, and coughing. But over time, these impacts can get worse. Studies have shown that long-term exposure to PM2.5 is linked to an increase in "chronic bronchitis, reduced lung function and increased mortality from lung cancer and heart disease."
Could Black Americans Be Especially at Risk?
For Black Americans, the smoke-filled skies are particularly concerning. People with asthma are at elevated risk from air pollution. And Black Americans are much more likely to have asthma than our white peers.
According to the U.S. Department of Health, roughly 4 million Black Americans have asthma. And African Americans are about 30 percent more likely to have the condition than white Americans. We're also at significantly higher risk for cardiovascular diseases, which, you guessed it makes exposure to air pollution from the wildfires even more dangerous.
The fact that Black communities also tend to be in places with higher levels of existing urban pollution is another part of the problem. The combination of pollutants from disasters like wildfires and man-made contaminants like car exhaust is a deadly mix. 
All of this might not be as much of a concern if this was a one-time phenomenon. But as climate change gets worse, wildfires like the ones raging in Canada are going to become a more common occurrence.
How Do I Stay Safe?
Now that we've got the obligatory doom and gloom out of the way, it's time to chat about safety precautions. The big thing to know is that if you're on the east coast right now, it's not a good time to pick up outdoor jogging. Remaining indoors or, at the bare minimum, avoiding strenuous outdoor activity is your best friend right now. Using heavier-duty masks such as N95s and P100s can also help protect you while you're outside.
The risk indoors for much of the east coast isn't super high right now, but there are still things you can do to keep your air cleaner. For one thing, it's not a good time to enjoy a fresh outdoor breeze. Try to keep your windows closed to avoid letting smoke inside your home. Indoor air filters are another option for people looking to be extra careful. 
As the week persists, it's worth watching the Air Quality Index in your area to help you make informed decisions about your health and keep in touch with your healthcare provider if you're concerned or start feeling symptoms. If all else fails, you could always hit up your friends on the west coast; I'm sure they'll know a trick or two!