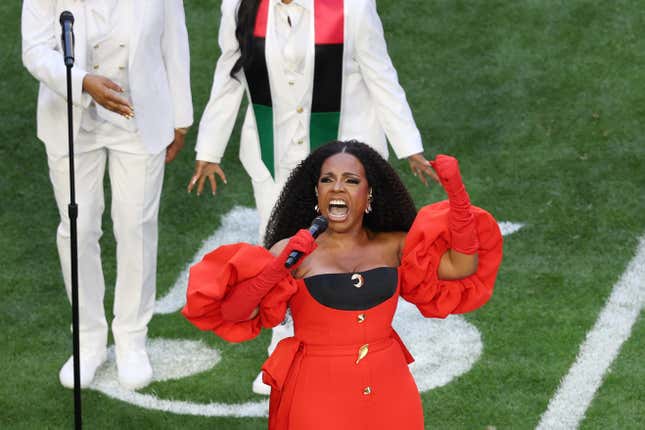 As people throughout the United States tuned into the Super Bowl last weekend, they may have been surprised by a "new" musical addition. The Black National Anthem was performed for the first time at the Super Bowl by actress Sheryl Lee Ralph.
Now the actual song, titled "Lift Every Voice and Sing," is far from new and millions of Black people have been singing it at churches, colleges and sorority events. But the fact that it was performed at the Super Bowl alongside the Star-Spangled Banner was groundbreaking.
Of course, some people took issue with a song about Black liberation being played at a Super Bowl with two Black quarterbacks, Black performers, and primarily Black players. But instead of giving those people a ton of air time, I want to talk about the enduring legacy of "Lift Every Voice and Sing," aka, the Black National Anthem.
The song was written and composed by a pair of brothers in 1900. NAACP Leader James Weldon Johnson wrote the hymn as a poem, and his brother, John Rosamond Johnson, composed the music:
Lift every voice and sing,

'Til earth and heaven ring,

Ring with the harmonies of Liberty;
The hymn, which celebrates the promise of America for Black people as well as the evil we've endured, was first performed by 500 children in Jacksonville, Florida. (Fun fact: they were celebrating President Abraham Lincoln's birthday, which just so happened to also coincide with the Super Bowl this year.)
Slavery had ended decades ago, but the promise of reconstruction and an equal society had faded. The song offered hope that this country still had something to offer Black Americans, despite everything it had taken from us. It also served as a reminder of how far we'd come.
That message continued to endure for decades after its creation. In 1919, the NAACP adopted the song as its official anthem. And throughout the Civil Rights Movement of the 1950s and 60s, leaders used the song as an unofficial "rallying cry."
"It spoke to the history of the Journey of African-Americans and for many Africans in the diaspora [who] struggled through to get to a place of hope," said NAACP President and CEO Derrick Johnson.
Nowadays, the song lives on in the backdrop of many Black families. Maybe you sang it at school or church, or maybe your mother sang it to you as you fell asleep.
Either way, there's a reason it's stuck around. And while I wouldn't call myself religious or into football, the addition of the hymn during last Sunday's game was a touching moment.