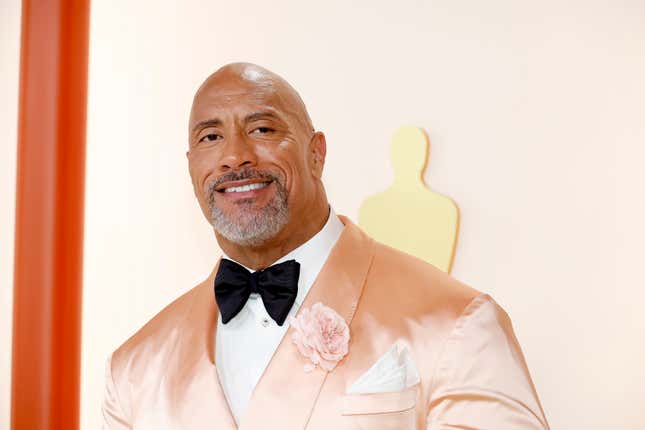 He may be one of the biggest movie stars in the world now, but Dwayne "The Rock" Johnson has never forgotten his humble beginnings. He made a whole TV series about his rags-to-riches story. He's been open about how his early struggles are what drives him to work so hard.

Because he remembers where he came from, The Rock knows how hard the SAG-AFTRA strike is for the members who aren't major Hollywood superstars. The commercial artists, background players and older actors who are no longer working rely on the SAG-AFTRA Foundation for help during work stoppages and financial difficulties. The foundation is a non-profit that works with the union, but isn't part of it. It relies on donations and grants for the funds it needs to help union members. According to Variety, Johnson recently dropped a seven-figure donation to help SAG-AFTRA Foundation to assist with its efforts during the strike.

America's Got Talent Host, Terry Crews, Shows Full Gratitude For Writers On Strike
SAG-AFTRA Foundation president Courtney B. Vance and executive director Cyd Wilson sent a letter explaining the foundation's financial needs for its Emergency Financial Assistance Program during the strike to "2,700 of the union's highest-earning actors."
"Having been through this during COVID and having such a great response from our own membership to take care of their own, when the strike was decided, Courtney and I sat down with our team and said, 'Here we go again,'" Wilson said.
The exact amount of the Central Intelligence star's donation is a secret. Vance said Johnson contacted the foundation shortly after the letter went out.
"It was a love fest. It's like, 'Man, you're stepping up in a way that is allowing others to know the dire necessity of it,'" Vance said. "This is him saying, 'In such a time as this, I'm here and I'm not going anywhere, whatever you need me to do.' And that sends a huge message to other folks to do the same thing."
SAG-AFTRA Foundation grants offer $1,500 per individual, but if a lifetime member is dealing with serious complications they can receive $6,000. Wilson and Vance revealed that many big names made major contributions during the COVID-19 pandemic, but also state that every amount helps, no matter how much it is.
"It is a call to arms for all of us to know that we just have to step up however you can," Vance added. "If your step up is $10, step up. Because that $10 is going to help somebody. If it's $10,000, if it's $10 million, step up, because we have to. Everyone knows what happens when you go on strike, when you stand for something—as the saying goes, if you don't stand for something, you'll fall for everything—you can't stand unless you have support underneath you, on the side, up top and up front. So Dwayne is letting everyone know, 'I'm here. What are you going to do?'"