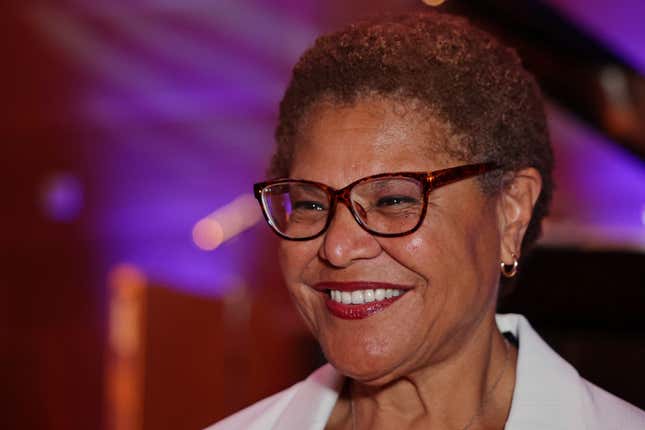 As SAG-AFTRA enters its first full week on strike alongside the WGA, Los Angeles Mayor Karen Bass has seemingly taken a clearer stance and sided with both unions.
America's Got Talent Host, Terry Crews, Shows Full Gratitude For Writers On Strike
In a new statement issued on Monday, Bass called the concurrent strikes a "historic inflection point," and said that a "fair and equitable solution must be reached."
"Los Angeles is experiencing a summer of struggle to make ends meet. In all industries—education, hospitality, goods delivery or entertainment—Angelenos deserve fair contracts," she said. "Whether you're a writer who has been on strike for more than 72 days or an actor who has been on strike for 72 hours, wages and health benefits to afford housing, food and the basic necessities to survive should be a minimum requirement in discussions. A strong business sector is essential for our city to become affordable for working families once again."
"This is a historic inflection point for our city as our entertainment industry experiences economic pressure and business uncertainty. A fair and equitable solution must be reached," she concluded.
This new tone comes after she previously urged "all sides to come to the table and work around the clock until an equitable agreement is reached," in a statement given shortly after the strike officially began last week. However, SAG-AFTRA and the WGA have been consistent in their intent and messaging of reaching a fair deal, but have repeatedly stressed that it's the AMPTP that's not bargaining in good faith.
And if you needed further proof of that, just take one look at the list of negotiations SAG-AFTRA proposed—which was released in its entirety on Monday—and how much the AMPTP either flat-out rejected or countered on with very little improvement.
"We need transformative contracts, yet remain far apart on the most critical issues that affect the very survival of our profession. Specifically, we need fair compensation that accounts for inflation, revenue sharing on top of residuals, protection from AI technology, and updates to our pension and health contribution caps, which haven't been changed in decades," SAG-AFTRA said. "This is why we're on strike. The AMPTP thinks we will relent, but the will of our membership has never been stronger. We have the resolve and unity needed to defend our rights."