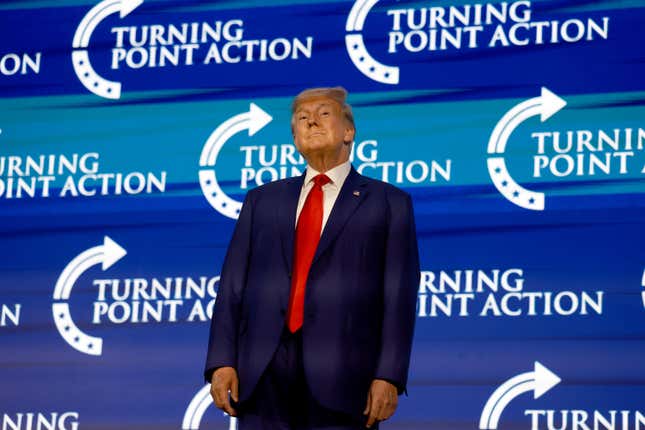 Updated 07/22/2023 at 10:00 a.m. ET  

We have a new date for former President Donald Trump's trial, and it's not going to make anyone happy. On Friday, Judge Aileen M. Cannon announced that Trump's trial over his alleged hoarding of classified government documents is going to take place in May of 2024.
Federal prosecutors requested that the trial take place in December of this year before the Republican primary kicks off. Trump's legal team argued that the trial should be postponed indefinitely. The new date means that the trial is likely to occur after most states have held their primary election. It's awkward timing, but it's certainly a better deal for federal prosecutors, who no doubt wanted to avoid a post-general election or, worse, post-inauguration trial date.
As President, Trump would have a ton of power to derail the federal case against him, a fact he and his team were no doubt banking on when he attempted to push his trial back.
One strong possibility is that Trump could try to pardon himself. In 2018, Trump said that he "had the absolute right to Pardon" himself. And on Tuesday, the New York Times reported that the President's advisers have said in private conversations that Trump is "looking to win the election as a solution to his legal problems." It's an open question whether the courts would allow a self-pardon. Frankly, we've never had a President indicted on federal criminal charges to test the theory. But just because it's controversial doesn't mean Trump wouldn't attempt it.
A pardon is his hardly only option. The Department of Justice is a part of the executive branch, which means, ultimately, the answer to the President. There would be very little stopping Trump from going after federal prosecutors on this case or the Attorney General. There's also the tricky problem of an old Justice Department policy, which more or less prohibits a sitting President from being prosecuted. It's not clear what would happen if the people serving at the leisure of the President were simultaneously trying to prosecute him. But plenty of experts believe that it would be next to impossible for the prosecution to continue if the trial is scheduled for after Trump assumes office.
All of this to say, running out the clock and praying he wins the 2024 Presidential election isn't a bad legal strategy for Trump. Now, we'll have to wait and see whether Trump appointee, Judge Aileen Cannon, agrees to push it back.