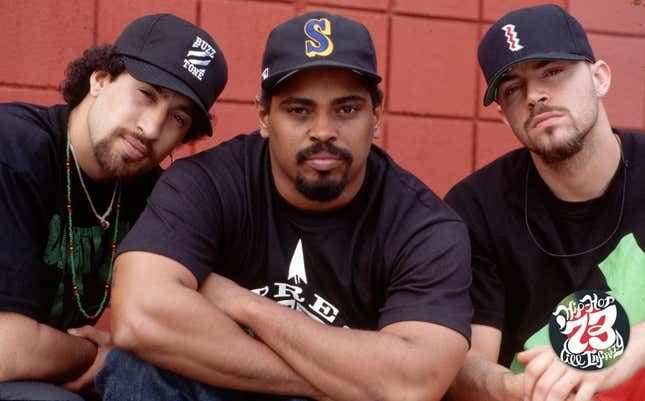 This story is part of our new Hip-Hop: '73 Till Infinity series, a celebration of the genre's 50th anniversary.

Who are the greatest groups in hip-hop? Outkast? Run-DMC? A Tribe Called Quest? If you named any of the above, I wouldn't disagree with you. I love them too. Now tell me a group that's been together as long and has continued to put out unique, original, and uncommon music as much as Cypress Hill for the past 30 years. You can't.

Small Town Horror Story: The Mississippi Burning of Three Anti-Segregationists
This California rap group is unlike any other in hip-hop's 50-year history and they continue to push the boundaries of what a rap group can be and evolve into to this day. While their expansive and impressive discography includes an interesting mix of genres, including Latin, rock, and metal, their most celebrated and beloved music was on their classic sophomore rap album, Black Sunday, which is celebrating its 30th anniversary.
Despite being as "hip-hop" as any album released in the 90s, the golden era of rap, Cypress Hill struck a unique chord in the music industry. Not just because the album debuted at number one on the Billboard 200 or because it has gone on to sell more than four million copies. But because it was beloved by fans of hip-hop and rock/metal.
"This record is so special because it's the album that broke things wide open, not just for Cypress Hill, but for hip-hop as a whole," said Sen-Dog, one of the founders and MCs of the group. "It was the record for people who loved hip-hop and also loved rock and metal. They were waiting for a record like that, and without even knowing it, we serviced both of those markets."
He continued, "We started noticing that our crowds were looking a lot different. We saw more Metallica and Red Hot Chili Pepper shirts. I got the feeling that 'Hey, I think we're crossing over.' That record assisted in our longevity as a group. It opened our eyes to what could be in store for the future."
The crossover success that Cypress Hill fell into has allowed its members to explore genres that most rappers wouldn't even think about transitioning to. For example, the second disk of their 2000 album, Skull & Bones, is entirely nu metal, and in 1996, Sen Dog created the Rock band SX-10.
Although it's hard to see Cypress Hill as anything other than a West Coast rap group now, people could not necessarily tell where they were from in 1993.

Yes, they're rapping about their enjoyment of marijuana, but if we're being honest, nothing about their sound screamed West Coast hip-hop. California artists of the time were obsessed with the G-Funk sound and it was becoming the go-to style of production for rappers in the area. But Cypress Hill took a different approach.

"For us being West Coast guys, we had DJ Muggs and he was a New York transplant," said Sen Dog. "When it comes down to hip-hop and creating tracks, the cat was just different. His [production] wasn't like anything you heard come out of Compton or even New York for that matter. He could just make tracks so you didn't know what side of the country we were from."
He continued, "That helped us open up our audience base because we didn't sound like anything from the West Coast. As we started going along and making music, we were proud of that. We didn't sound like anybody from Compton, Watts, or South Central. We didn't sound like we were from any part of LA. It kind of put us in no man's land, in a good way."
He's correct. DJ Muggs' production, along with Sen Dog's and B-Real's lyrics, led to an insane run as Cypress Hill. While members of the group have been substituted, the group has been extremely consistent, dropping 10 albums since their debut project, with their latest work being released in 2022.
It's all because of the success of Black Sunday, a classic album that not only changed the course of the group's career but also influenced a myriad of hip-hop artists in the future.
Who's your favorite psychedelic MC? Know any rappers that experiment with rock and metal? Cypress Hill was doing it first and probably influenced them to do so.
If you're feeling in the mood to relisten Black Sunday, or you still haven't heard their excellent sophomore album, check out the digital deluxe that was released by Sony Music Entertainment (SME) and Certified in celebration of the album's 30th anniversary. It's available on all streaming platforms.
Along with the original album, the deluxe includes remixes of "Hits from the Bong" (DJ Muggs 2023 Remix), "Insane in the Brain" (Statik Selektah Remix), "Lick a Shot" (Baka Boys Remix), "Scooby Doo," and a Spanish version of "Insane in the Brain," "Loco En El Coco."