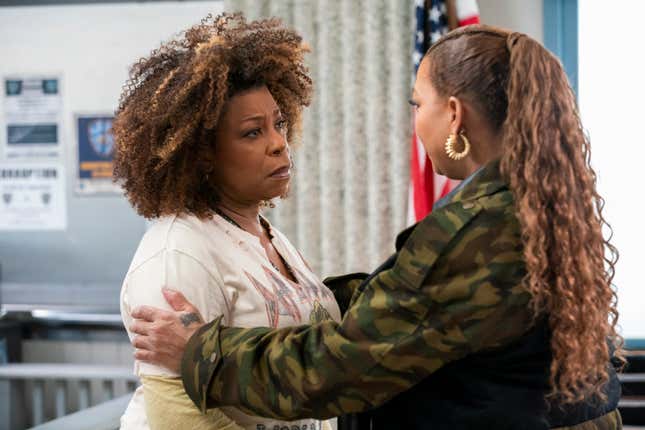 Trigger Warning: This article contains references to domestic violence.
Spoiler alert! If you haven't watched The Equalizer Season 3 episode "No Way Out," stop reading now.
Small Town Horror: The Story of a SWAT Team That Set A House Ablaze
As the issues surrounding domestic violence once again make headlines, the CBS action-drama The Equalizer tackled the topic head-on in its latest episode. In the Season 3 outing "No Way Out," Aunt Vi discovers her masseuse, Angie, is a victim of domestic abuse. As the team rallies to help her friend, things take a tragic, unexpected turn for Vi. As the team begins to investigate Vi's suspicions, they discover that, on the surface, Angie's husband, Doug, looks like the perfect guy. For Toussaint, the couple's outside appearance of a perfect life added authenticity to the story. Series star Lorraine Toussaint spoke with The Root about Vi's harrowing story.
"If you look at it from the outside, they are upper middle class, professional couples and they show really well," Toussainr told The Root. "You would not think that this was going on behind closed doors. And that is more often than we realize, where the most horrendous violence is happening. In small communities, in affluent communities, it happens everywhere. I liked that it wasn't necessarily a Black family that she advocated for. That it is this middle-class white family that speaks to the humanity of our show."
Once Vi helps Angie escape to a safe house, Doug tracks them down and attacks the women. With no other options, Vi is rocked to her core when she is forced to shoot and kill him.
"In the wake of the extraordinary amount of gun violence in this country, there's a certain numbing quality that's happening across this nation when it comes to pulling the trigger on other people," she said. "To send a message that even in the face of this kind of extraordinary circumstance, it should not be easy to pull a trigger. It should not be easy to take another human being's life. It should be extraordinarily difficult, conflicting, and frightening. You should freeze to your core before you actually do that. It opened her eyes in ways that I hope helps to open our audience's eyes. That the idea of taking a life and the reality of taking a life are a very, very different thing."
As she discusses the incident with Robyn, it becomes clear that Vi will not work through these emotions easily, which is how it should be. This isn't something she should be done with after one episode.
"When we shoot people on TV, we don't have the aftermath of the shooting. What it is to shoot people, actually kill people," Toussaint said. "So I worked with the writers to go, 'What is it like for a normal person? Not an Equalizer, not a TV person, not another superhero, but a normal person to be faced with this dilemma. What does that feel like? What does that look like afterward?' It definitely isn't necessarily logical, because that kind of emotional upheaval and that kind of shock and trauma isn't logical. Some of it is just physical. Some of it is confusing. Some of it disappointing, some of it is grateful. I wanted to make sure that there were all these different levels that are inherent in the aftermath. What is the ultimate truth for a normal everyday person to be in this situation? It wouldn't be tidy and it wouldn't be neatly tied up the way an episode sometimes wants to be neatly tied up."
There's another layer to this story about the violence women frequently deal with. We also see Robyn training her daughter, Delilah, in situational awareness. This involves a lot of the self-defense techniques that women have learned since they were young. Be on guard when you're out alone, know when to run from danger and sit in a defensible position when you're in public spaces. The parallels between both stories is striking, as they speak to the heightened state of awareness women have to live with at all times. We don't get to stroll through the world carefree.
"It's part and parcel with being a woman and the extraordinary vulnerability that we live with on a daily basis. How do we navigate the world as women? To see the different levels and different generations, the different ways in which we as women are navigating the world. It's a very powerful message," she said. "Then the fourth woman who is on the front line with her vulnerability, and to see what that looks like when women actually die. They die all over the world. They die quietly, they die casually. This is to shine a little bit of light on this. I feel very, very honored, very privileged to deliver a message—not on the soapbox—but in a very personal way."
The Equalizer airs Sundays at 8 p.m. on CBS and is available on Paramount+.