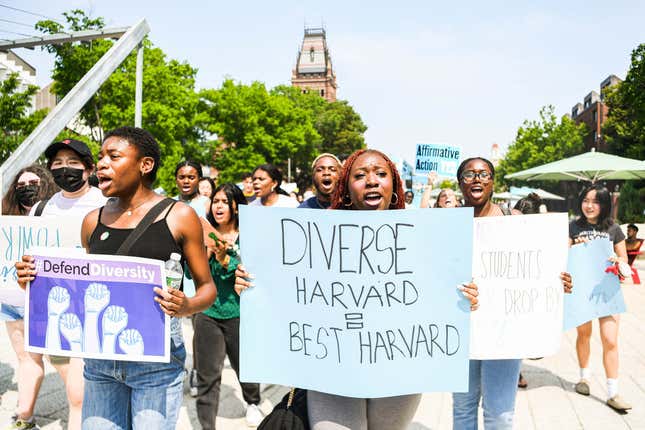 The Supreme Court's decision to gut Affirmative Action in college admissions  has brought renewed scrutiny to admissions policies that benefit the wealthy and connected, namely, legacy preferences. Some schools like Wesleyan and Carnegie Mellon have taken it upon themselves to roll back preferences for children of alumni. But, many of the most selective universities, including all eight Ivy League schools, still cling to their legacy admissions policies—a position that threatens to exacerbate racial inequity on campus.

Afraid Of Losing Political Power, White People Weaponize "Identity Politics"
Now, the Department of Education is taking the matter into its own hands. On Monday, the DOE Office of Civil Rights announced that it will investigate donor and legacy admissions at the richest and most prestigious campus in the nation: Harvard University.
The letter was sent to the Lawyers for Civil Rights, which had filed a complaint alleging that the practice violated federal civil rights law by disadvantaging students of color.
After the Supreme Court's ruling, The Root spoke with University of Pennsylvania Law Professor and Director of Penn Law's Advocacy for Racial and Civil Justice Clinic, Cara McClellan, who brought up similar concerns about the role of legacy preferences:
"We know that these policies preference wealthy students and white students," says McClellan, "and without an attempt to ensure an equal playing field, this case really threatens to return our country to a time where elite universities, in particular, were reserved for the white and the wealthy."
In its letter, the DOE stressed that they hadn't made a determination yet about whether legacy admissions harmed students of color in the admissions process. But there's already compelling evidence that such policies primarily benefit white and wealthy students. The complaint filed by the Lawyers for Civil Rights notes that nearly 70 percent of legacy and donor-related applications to Harvard University are white, and those students are nearly seven times more likely to be admitted to Harvard than their peers.
Coincidentally, a landmark study—by researchers from Harvard and Brown Universities, both Ivies—highlights the advantages provided to wealthy students. The study tracked college attendance at twelve Ivy-Plus schools (i.e., all of the Ivy League schools, Stanford, Duke, M.I.T., and the University of Chicago) from 1999 to 2015. They found that even with SAT or ACT scores being equal, students from the top 1 percent were 34 percent more likely to get admitted to these highly selective schools than their peers. Students from the top 0.1 percent were more than twice as likely to get into these highly-selective schools.
The study also found that the advantage (a.k.a Affirmative Action) for wealthy students results from three primary factors. Those include a preference for the children of alumni, athletic recruitment, and weight given to non-academic achievements associated with private schools.

In other words, even Harvard researchers acknowledge that being rich and privileged comes with a huge advantage in getting accepted into elite universities, even when other candidates are just as academically prepared.

We'll wait while you guess who that benefits the most.
It's still too soon to know how the DOE Office of Civil Rights will land on Harvard's legacy and donor-admissions policy. But it will be interesting to see if this adds pressure for selective schools to take a closer look at how they handle their admissions programs.