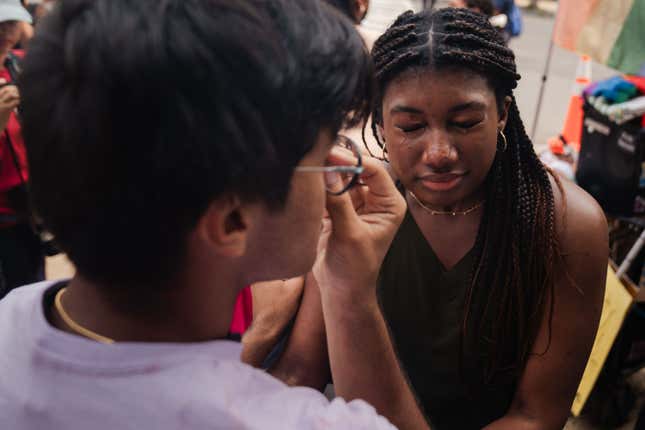 The Supreme Court landed an all too-expected blow to racial affirmative action on Thursday. The court ruled that the University of North Carolina and Harvard University's race-conscious admissions policies violated the Constitution's Equal Protection Clause. The decision severely limits schools' ability to use race in admissions.

Afraid Of Losing Political Power, White People Weaponize "Identity Politics"
For our readers who don't have the time (or frankly, the interest) to read hundreds of pages of legal jargon, The Root asked our legal experts to break down everything you need to know about the ruling.
What Does The Supreme Court's Ruling Mean?
Let's start with the basics. The Supreme Court ruling set some pretty hard limits on how and when schools can use race in admissions, says American University Washington College of Law Professor Stephen Wermiel.
"There's a sort of three-step process that the Chief Justice outlines," explains Wermiel, a Constitutional Law professor, "so that any consideration of race would have to survive strict scrutiny, not be able to be based on stereotypes or would not be able to have a negative effect on any applicant, and would have to have an endpoint."
In Roberts' opinion, he argues that admissions are "zero-sum" and that any benefit provided to one applicant inherently disadvantages another. "So while [Roberts] doesn't say specifically that that means race can never be considered," says Wermiel. "I think it's clear that, in his view, any time you take race into account as a factor, you are hurting other applicants on the basis of their race. So I think that makes this a really difficult hurdle."
Why Are We Still Scratching Our Heads?

The decision still leaves a decent amount of ambiguity for colleges and the lower courts to work through, says Justin Hansford, director of the Thurgood Marshall Civil Rights Center at Howard University. "[Schools are] gonna have to see what does and does not work," says Hansford, likening it to the years of ambiguity after Brown v. Board was decided.
"What we're likely to see actually is a lot of white applicants who already felt a sense of grievance for not getting admitted to universities. Now when they don't get admitted, they're going to be even more outspoken and accuse these schools of having illegal diversity programming," he says. "And those schools will have to be more transparent, and they're gonna go to great lengths to say no, we're not doing anything."
What Does This Mean For Black Students?
We don't have to guess what this case will mean for Black students. We already know, says University of Pennsylvania Carey Law School Professor Cara McClellan, who also serves as Director of Penn Law's Advocacy for Racial and Civil Justice Clinic. In 1996, California banned affirmative action in its public universities, and as expected, Black enrollment at these institutions fell dramatically.
Harvard and UNC have both argued that the same thing would happen on their campuses. "The record was clear," she says, "that without race-conscious admissions, without affirmative action in the way that those universities were considering it in a narrowly tailored way as part of a holistic admissions process, the number of students of color would significantly decrease on both of those campuses."
What About Legacy and Gender-Based Affirmative Action?
The impact of this decision is only compounded by the fact that policies like legacy admissions that give preference to white and wealthy students, were allowed to remain in place.
"We know that these policies preference wealthy students and white students," says McClellan, "and without an attempt to ensure an equal playing field, this case really threatens to return our country to a time where elite universities, in particular, were reserved for the white and the wealthy."
The choice to focus only on policies that level the playing field for applicants of color is intentional, says Hansford. "I never hear about the end of legacy programs or the end of...affirmative action based on gender that white women are some of the biggest beneficiaries of," he says. "Nobody is trying to scale that back. So it is a very precise attack."
How Can Schools Promote Diversity Without Affirmative Action?
To be clear, says McClellan, the Supreme Court decision doesn't mean that colleges should abandon the goal of promoting diversity. "Colleges and universities still have duties under civil rights law... to ensure that they aren't creating unnecessary barriers that exclude students of color," she says. "So that means that regardless of what this opinion says, they have a duty that is distinct from considering race explicitly."
Getting rid of policies like legacy preferences and standardized tests, which are shown to directly correlate to a student's economic background, are some of the ways schools can continue to promote diversity, she says.
What Are The Ripple Effects of This Decision?
McClellan says that this decision will impact far more than just higher education. "Colleges and universities are the pipelines for employment opportunities down the line," she says, "so we can't treat these aspects of society as if they exist in a vacuum."
The fact that the Supreme Court has decided to section off higher education as if it can be extricated from the larger issue of systemic racism misses the mark, argues McClellan.
"We still have racially segregated schools, and black and brown students are disproportionately in schools that are under-resourced. So course that's going to impact students when they apply to colleges and universities," she says. "So it can't be the case that we allow race to be such an important factor that shapes students' K-12 experience and then act as though we have to ignore it completely and it doesn't matter at the one moment they apply to college."