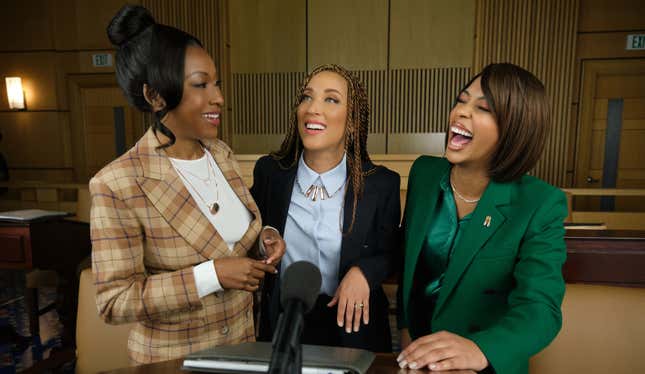 A Black Lady Sketch Show is as advertised: It's a comedy by Black ladies, for Black ladies, and not only is it one of the best comedies on television, but it is finally returning for its latest season—and I couldn't be more excited.
A Black Lady Sketch Show Is Our Black TV Pick of the Week
It's all hits, no skips. Every sketch of every episode of every season is chock full of ridiculous shenanigans centered on the everyday lives of Black women. And as Season 4 premieres Friday, April 14, cast members Gabrielle Dennis and Skye Townsend, along with creator/showrunner/star Robin Thede, spoke to The Root about bringing back fan-favorite characters and the acceptance of working on a series led by Black women.

In a bit of a change from previous outings, Season 4 features quite a few period pieces with elaborate costumes and accents. This was a fun shift for the cast, as it allowed them to expand their skills into unexpected realms. As over the top as the stories are, the costume department and production designers keep everything grounded in authenticity.
"Anytime we get to go out of the box and you know push the level up a little bit higher because…that wardrobe, it's very authentic, " Dennis told The Root. "Sometimes they have to make things, so it's just fun to play dress up. You get to play dress up for a living like it's pretty awesome."
As the creator and head writer, Thede marvels at the extremely talented cast and crew's ability to bring her wild visions to life. Even though they make it look easy, she never takes their skills for granted.
"We play dozens of characters in just a short amount of time. Hundreds of pages of dialogue and then we improvise, so it's definitely a unique challenge," she said. "But they all have those tools. It's just the Swiss army knife of a cast. I've been lucky every season I've had people who can contort into these roles without a lot of effort. They say it takes a lot of effort, but I can't tell because they're all so talented. There isn't an accent we write that someone can't do. There isn't an impression of somebody that we can't do. There isn't a character someone can't embody. And I think that's really rare."
Season 4 sees the return of some of the series' most popular characters, including the Coral Reefs, Black Lady Courtroom, Chris and the Bible Ladies. As much as the fans love these characters, Thede and her team don't bring them back just for the heck of it.
"The biggest thing is that we don't write a sketch unless we have a funny way to do it. We're not going to do it just to do it. That's why we didn't have a 'courtroom kiki' last year or Coral Reefs or Chris. We didn't have a way at it," Thede said. "We had done them for multiple seasons and…sometimes we like to let them rest. We definitely break that at the beginning of the season. We may not have ideas for them yet, but when the writers are pitching, they're gonna think about those characters first. All characters are fair game. Every character we've ever played on the show can come back at any time if the idea is funny enough."
It's also important to note that working on a series like this provides a safe space for the cast and crew. They've created an accepting and understanding atmosphere that is definitely missed when they're on other projects.
"When we vent about certain things, it's not falling on deaf ears, because they go, 'Oh, wow, we really get why that could be frustrating,'" Townsend said. "There's not a need for an explanation because we're speaking to people who get it. I know I'm definitely spoiled in that aspect when I work on other sets."
Thede is very proud of the community they've built on the show. As the boss, she made a conscious decision to make the set a good place to work. She's been in the business long enough to recognize how special this is for everyone involved.
"There is a feeling of coming home when you come to the sketch show and I love that. I don't know if we worked hard to foster that, but it's definitely been a priority," Thede said. "I think some showrunners don't care about that. They just want to get it done. For me, the process of getting it done is the joy and the people you meet along the way become your family. A lot of that has to do with it's a show run by women of color. So that comfort level not having to explain yourself, being able to show up as your whole authentic self is what they value. It's something that every show can learn from. Everyone's accepted for who they are. Everyone's expected to work at the top of their skill level. And the proof is in the Emmy nominations and wins across the board. We have them in departments in front of and behind the camera. I think that's the proof that we're doing something right."
A Black Lady Sketch Show Season 4 premieres Friday, April 14 on HBO and is available to stream on HBO Max.