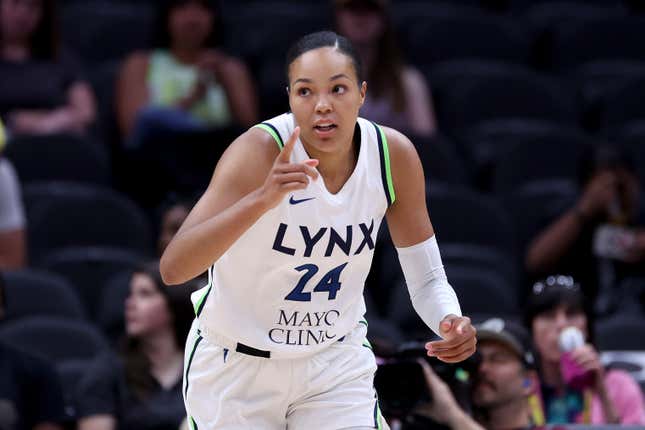 Long before the WNBA came along, the only way women could play professional basketball was to go overseas to places like Greece, Turkey, Italy, China and Russia. The WNBA created opportunities to play at home in front of devoted fans, but money led many top players to still opt for international teams during the offseason. Now, family considerations and the wrongful imprisonment of Brittney Griner are causing some of the game's best players to come up with an alternative to playing overseas.

Cedric the Entertainer Shares Details Of His First Crime Novel & Tackles Our Random Rapid Fire Questions
On Thursday, the New York Liberty's Breanna Stewart and the Minnesota Lynx's Napheesa Collier announced that they are founding Unrivaled, a new women's basketball league. According to ESPN, it "would run from January through March and feature 30 of the top professional women's players on six teams, playing games of three-on-three and one-on-one at a soundstage in Miami."
As part of the 2020 collective bargaining agreement, the WNBA prioritization rule states that players must return from their international commitments by the start of WNBA training camp or they won't be eligible to play that season. This provides a conflict for those who want to play overseas, as most international leagues don't wrap up until mid-May. In the past, we've seen teams struggle as they waited for certain players to return. Stewart and Collier believe Unrivaled would offer players more choices in how they spend their offseason. It would also provide an option that keeps them closer to home.
"It's the ability for players to stay home, to be in a market like Miami, where we can be the buzz and create that with the best WNBA players. We can't keep fighting (the WNBA's prioritization rule.) It is a rule that takes away our choices, which should never be a thing, especially as women, but it is still a rule," Stewart said. "We've all been talking and realizing that we're missing a moment. Having a lot of our players be overseas or not playing basketball during the offseason. I think top players want to be playing. They want to be home, they want to be playing, but it has to make sense, it has to be right. And the money has to be right. And I think that's what Unrivaled is trying to do."
They are planning to raise funds through private investment and sponsorships. Stewart and Collier are working alongside "business and sports industry leaders from…Twitter, DAZN, the WTA and WWE."
"I feel like I'm breaking down the same thing over and over again to companies," Stewart said. "But it's like people need to be shown how to watch us and how to see us and then from there they'll kind of continue to be invested and be like, 'Oh, I do like this. Who is this player and how can I watch them more?'...And then follow them in the WNBA."
Collier stopped going overseas after she had her first child, as being away from home and arranging child care was just too difficult. However, she still wants to play during the WNBA offseason.
"It just really opened my eyes even more to the problem that we have with going overseas. It's really hard to be away from family for so long," Collier told SportsCenter. "But unfortunately it's really the only option we have if we want to make money in the offseason. We want to continue to grow our game. And it just leaves a huge hole marketing wise. So we just saw a lot of issues that we wanted to try to find a solution for."
She's particularly excited about the three-on-three element of Unrivaled. Collier feels like it offers women players similar opportunities to what men have when videos of them playing places like the famed Drew League go viral.
"Three-on-three is just so fun. It's really fast paced, and it's still going to be a full court, but it's about two thirds the size of a regular court, so you still get that up and down. It's gonna be really fun to watch," Collier said. "The premise is the 30 best players in the league, so you get to see them playing more offense. Doing what they do best and why they became the best that they are. I think it's just gonna be highly entertaining."
Like any new sporting venture, the success of Unrivaled will depend on its TV partners. If it lands on some obscure streaming service, it won't be able to capitalize on the hype and ratings coming out of the WNBA Playoffs. For the sake of their families and their safety, it would be really fantastic to see these athletes get the opportunity to play basketball at home during the rest of the year. In the meantime, you can watch the best players in the league square off in the AT&T WNBA All-Star Game, which airs live Saturday, July 15 at 8:30 p.m. ET/5:30 p.m. PT on ABC.