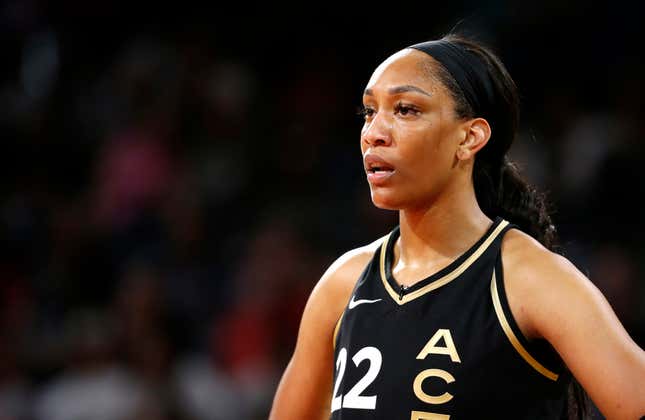 The White House has once again been called out for insulting a women's basketball champion. President Biden found himself on the receiving end of criticism when he slighted the Las Vegas Aces' 2022 championship.

Eboni K. Williams On Being A Disruptor: From Fox News to Real Housewives | Securing the Bag: Part 3
On Wednesday, the president's official POTUS Twitter account posted a congratulatory message to the NHL Stanley Cup Champion Las Vegas Golden Knights, writing, "Congrats to the Vegas @GoldenKnights on their first Stanley Cup in just their sixth season. The first major professional franchise in such a proud American city. Today, the team and entire community are champions." Saying that the Golden Knights brough Las Vegas its "first major" professional sports championship is extremely insulting to the Aces, who were just celebrated on the famed Las Vegas Strip last year. Several WNBA fans and media outlets replied to the tweet reminding POTUS that the Aces won the city's first pro championship.
Aces superstar and two-time WNBA MVP, A'ja Wilson' took exception with the comments from the POTUS account, tweeting, "Twitter not letting me quote tweet potus tweet but …BFFR, when is our White House visit cause …"
Apparently, the Aces have yet to receive an invitation to the White House, which is pretty weird since multiple other championship professional and college teams have met with the president and first lady. So what's the hold up on the Aces' invite? Since the 2021 WNBA Champions, the Seattle Storm, were invited to the White House, it seems like someone in the Biden administration just messed up and forgot. However, the president's social media team posting that message about the Golden Knights was an insulting erasure of everything the 2022 Las Vegas Aces accomplished.
This situation comes on the heels of First Lady Dr. Jill Biden suggesting that both Iowa and LSU, the final two teams in the NCAA women's basketball tournament, be invited to the White House. She meant well in her quest to celebrate women's sports, but the administration had also clumsily insulted Black women. When LSU star Angel Reese called out how the double invitation was offensive to her team and their hard work, she was criticized for being disrespectful and unsportsmanlike. I'm sure the same narrative will begin making the rounds about A'ja Wilson, but she's absolutely not wrong.
The Aces have been perennial championship contenders, and are among the league's most popular teams. They've been the city's best pro sports team for several years now and deserve to be respected as such. And by the way, the Aces currently have the best record in the WNBA and it looks like they're headed back to the playoffs. Apologize to these spectacular athletes and put some respect on their names.