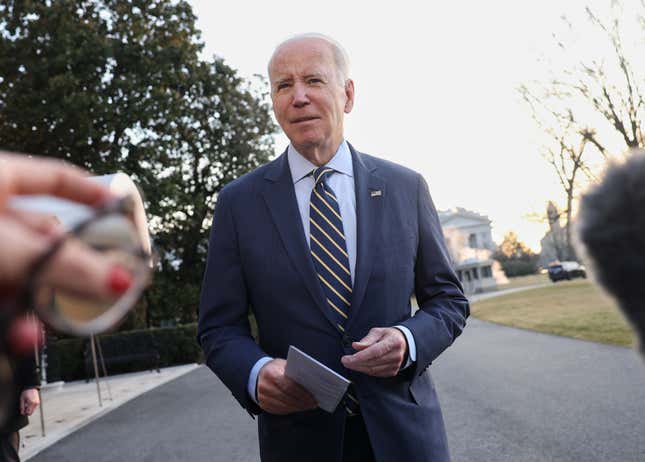 Updated 1/24/2023 at 1:15 p.m. ET  
President Joe Biden having a "classified documents" scandal was not exactly on my 2023 bingo card. I mean, how many Presidents involved in document-related shenanigans can we possibly handle at once?
Marjorie Taylor Green, Queen of the Karens, Wants To Literally Divide The Country
It shouldn't surprise anyone to discover that the two situations are pretty different. But it feels worth getting into what's happening (especially now that there's a special counsel).
For everyone dying to understand exactly what's going on here, we've compiled a list of the ten things you need to know.
1. Biden Gets an Unlikely Defender
This story is full of surprises! One of which was Republican Senator Lindsay Graham coming to Biden's defense over his mishandling of classified documents.
"I've known Biden for a long time and would be shocked if there was anything sinister going on here," Sen. Graham told a Sinclair Broadcasting reporter Tuesday morning.
2. Investigators Searched Biden's House
Justice Department Investigators searched Biden's Wilmington home on Friday. They found six additional documents from Biden's time as Vice President and his tenure as a Senator.
3. Biden Responds to Allegations of Secrecy
The slow drip of news about the Biden classified document situation is certainly not helping their current PR problem. And on Tuesday, the White House responded to allegations that they've been slow to release information to the public.
"We're endeavoring to be as transparent and informative to you all in the media, to the public as we can consistent with respecting the integrity of an ongoing Justice Department investigation," said Ian Sams, a spokesperson for the White House counsel's office, according to the Associated Press.
4. A Special Counsel Was Appointed
Last Thursday, Attorney General Merrick Garland appointed Richard Hu as special counsel. Hu is tasked with investigating the documents found at Biden's home and private office.
If you want to know more about what the special counsel appointment means, you can check-out our explainer here! (Warning: we get a bit wonky).
5. Biden's Lawyers Found Additional Documents
Before we get into the original story, it's worth giving you all an update. On Wednesday, NBC News reported that Biden's team discovered a "second batch of classified documents" at a second location. Additional news outlets have since corroborated NBC's reporting, and pinpointed the second location as Biden's Wilmington home. At this point, it's still unclear what issues the classified documents referenced.
It later came out, that five additional documents were discovered on Thursday morning.
6. What was found and where?
Now that we've gotten the update out of the way, here's some info on the original documents scandal. Roughly 10 classified documents were found at Joe Biden's private office at the Penn Biden Center in Washington, DC, according to CNN News. The outlet reported that "sources familiar with the matter" said that the documents included "intelligence memos and briefing materials that covered topics including Ukraine, Iran, and the United Kingdom."
The news that Biden's lawyers found the documents was originally broken by CBS News. The documents were reportedly from between 2013 and 2016, during Biden's time as Vice President. According to CNN, the items were discovered in boxes containing personal family items, including funeral arrangements for his son, Beau Biden.
7. When were they discovered?
The original documents were found in early November, less than a week before the midterms. According the New York Times, Biden's lawyers found the documents while closing down his Penn office in DC. They reportedly noticed that some of the folders labeled personal actually contained "classified" information.
His attorneys immediately reached out to the National Archives and Records Administration and Biden's team turned over several boxes of information. According to CNN reports, some of the turned over boxes included personal information out of an "abundance of caution."
8. How did Biden respond?
The first thing to get out of the way is that Biden is not the one who made the information public. His lawyers found out about the documents in November, and we only found out about it through a CBS news reports on Monday.
The Biden administration does seem to be "cooperating" with the archives and the Justice Department. "We're cooperating fully — cooperating fully — with the review, which I hope will be completed soon," Biden said on Tuesday.
Attorney General Merrick Garland selected John Lausch, the US Attorney in Chicago and a Trump appointee, to oversee the investigation into the documents, according to CNN.
9. How does this differ from what happened with Donald Trump?
At this point, the situations look pretty different. Although we still don't know what was discovered at the second location.
In Donald Trump's case, at least 325 documents were found, 60 of which were top secret, according to CNN News. In Biden's case, 10 documents were found, an unknown number of which were "top secret." However, We don't know how many documents were found in the "second batch."
Their responses to people finding the documents were also vastly different. As we mentioned above, Biden and his attorneys appear to be cooperating with the appropriate government agencies.
Trump on the other hand, spent months delaying efforts from the National Archives to look at the documents, refused to fully comply with a subpoena, and then seemed to lie about what documents he had. Not to mention the fact that, according to the New York Times, Trump may have "mutilated" several of the missing files.
As far as we know, the documents in Biden's possession were intact. According to the New York Times, the fact that Biden didn't destroy documents and turned them over upon their discovery means he likely isn't in the same legal jeopardy as his predecessor. However, we don't know anything about the state of the second batch of documents.
10. What's the political fallout?
Republicans are in control of the House, and that means Biden could be looking at a potential investigation.
Rep. James Comer, who is likely going to be in charge of the House Oversight Committee, said that Republicans planned on looking into the Biden documents, according to CBS News.
"We're requesting information related to the raid of Mar-a-Lago," he said, referencing the Aug. 8 search conducted by the FBI at Trump's Florida residence. "Now we're expanding that to include what Joe Biden had.
Senator Lindsay Graham (R-SC) previously called on Attorney General Merrick Garland to appoint a special counsel to investigate the document breach.
"I think if you believe a special counsel is necessary to assure the public about the handling of classified documents by Donald Trump, you should apply a special counsel to the mishandling of classified documents by President Biden when he was Vice President," Graham said on Fox News on Wednesday.
The documents drama doesn't seem to be going away anytime soon, especially now that's there's a special counsel.