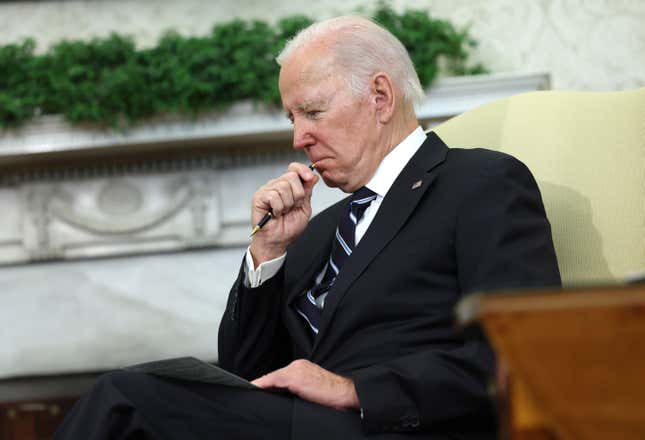 Having a drama-free White House was nice while it lasted. But with the appointment of a special counsel on Thursday, it seems the peace and quiet of the last two years may be behind us.
The Biden And Trump Classified Documents Scandal Explained
No matter what happens now, Republicans aren't likely to let this go, and there's a good chance we'll be hearing about this for years to come.
For folks wondering what this appointment means for President Joe Biden, here are the seven things you need to know:
1. Why Was The Special Counsel Appointed?
For people whose lives don't revolve around Twitter and breaking news alerts, here's some background on how we got here. On Monday, CBS News reported that the Biden's lawyers had found "classified documents," from the Obama administration in his personal office in November. From everything we know, Biden's lawyers immediately handed the documents over to the National Archives.
The misplaced documents might not have been a massive deal, except for the fact that on Wednesday, NBC News reported that additional classified documents were found in Biden's garage in Wilmington, Delaware. Obviously, this didn't look great.

The Justice Department was already investigating the first-batch of documents (with Biden's cooperation), but things escalated once the second set was discovered. On Thursday, Merrick Garland announced he was appointing Robert Hur to serve as special counsel overseeing the investigation into the documents found at Biden's house and office.
2. What is a Special Counsel?
This is going to get very technical so hang tight. The general idea is that there are situations where it could look like a conflict of interest for the Executive Branch to investigate itself.
In those cases, an Attorney General can appoint a special counsel, a.k.a a quasi-independent federal prosecutor tasked with investigating (and potentially prosecuting) a case where there is a perceived conflict of interest.
The "quasi" part is important here. Although special counsels aren't subject to "day-to-day supervision" by the Justice Department, they're not totally independent.
Every major decision made by the special counsel has to be run past the Attorney General, who can reject decisions he finds "inappropriate." The AG has to alert Congress whenever they veto the special counsel.
Attorney General Merrick Garland also technically has the authority to a special counsel from office "for misconduct, dereliction of duty, incapacity, conflict of interest, or for other good cause, including violation of Departmental policies." (Although in-practice it's a little unclear what would fall under those categories).
The big thing you probably want to know is what happens when the investigation wraps. The special counsel is required to provide a confidential report to the Attorney General outlining all of their decisions and whether or not they're in favor of "prosecuting any charges."
3. Who is Special Counsel Robert Hur?
Now that the technical stuff is mostly out of the way, who exactly is the man stepping into the special counsel role? That would be none other than Robert Hur. Chances are you haven't heard of him, but he isn't a new face at the Justice Department.
Hur served as U.S. District Attorney for Maryland during the Trump administration. He's currently working as a partner at the white shoe D.C. law firm, Gibson, Dunn & Crutcher.
It's clear Garland is hoping that appointing someone from the Trump administration will help the investigation look impartial.
4. There is More Than One On-Going Special Counsel Investigation
Funny story, Hur isn't the only special counsel right now. In November, Garland appointed Jack Smith to serve as special counsel overseeing the investigation into former-President Donald Trump's mishandling of classified documents. That means we currently have two separate special counsel investigations looking into classified document scandals.
5. What Is The Special Counsel Looking Into and Who Can They Talk To?
Things are still pretty vague when it comes to the special counsel's purview right now. But in his press conference on Thursday, Garland said Hur has the authority "to investigate whether any person or entity violated the law in connection with [the document] matter."
6. Is This Like Watergate?
When you heard special counsel, you probably thought of Watergate and Richard Nixon.
But the special counsel role is actually different from the independent counsel that investigated former-President Richard Nixon. (Robert Muller was also a special counsel appointment),
We haven't had an independent counsel since the 90s when the law authorizing the position expired. The main difference between the two roles is that an independent counsel is appointed by a three-judge panel (not the Attorney General), and as you might have guessed by the name, they're more independent from the Justice Department.
7. Does This Mean Biden's Going Down?
Unfortunately, we don't have a crystal ball. So far, it doesn't seem like Biden has done anything approaching Trump's running list of alleged crimes before, during, or after the Muller investigation.
That hasn't stopped Republicans from calling Democrats hypocrites for supposedly letting Biden off the hook. And now that Republicans control the House, we could be in for a dizzying repeat of the Benghazi hearings.
There's no way to predict exactly what will come out of Robert Hur's investigation, but you bet we'll be here to explain it.