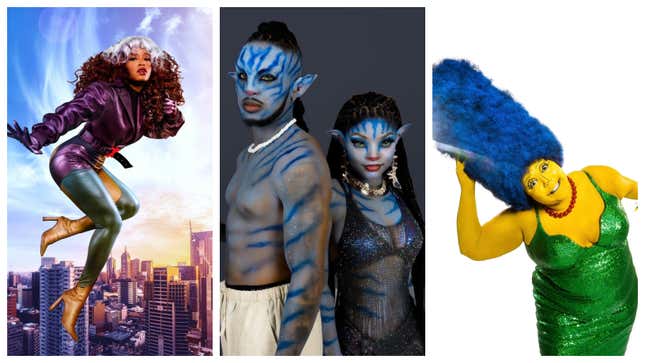 Halloweekend was a hit this year as the celebs got creative! Here are some of the best costumes!

Chloe Bailey as Storm
Singer, Chloe Bailey, dressed up as Marvel's Storm.
Diddy as Joker
Diddy might have won Halloween with this level of dedication as the Joker.
Lori Harvey as Beyoncé
Lori Harvey transformed into Beyoncé from several music video looks including "Me, Myself, and I", possibly a hint to her newly single status.
Monica as Lisa "LeftEye" Lopes
Singer, Monica, recreated Lisa LeftEye's 1994 mugshot for Halloween 2022!

Halle Bailey as Neytiri
Our Little Mermaid, Halle Bailey, is Neytiri from Avatar. Her boyfriend, DDG, joined the fun as well.

Lizzo as Marge Simpson
Lizzo is Marge Simpson this year!
Kelly Rowland as Catwoman
Kelly Rowland shut down Instagram after posting herself dressed as Catwoman.
Janelle Monae as Diva Plavalaguna
Janelle Monae is one of the greatest to dress up for Halloween and didn't disappoint this year as Diva Plavalaguna.
Kerry Washington as Lionel Richie
Kerry Washington cracked us up wearing this thick mustache, mini afro, and green sweater to become Lionel Richie.
John Boyega as Eazy E
John Boyega dawned a greasy curled wig to be Eazy-E.

Jordyn Woods as Diana Ross
Jordyn Woods looks gorgeous. in this recreation of a Diana Ross photoshoot.
Keke Palmer as Rogue
We are begging Marvel to go ahead and cast Keke Palmer in the X-Men films. She dressed up as Rogue this year!

Latto as Corpse Bride
Latto is stunning as the Corpse Bride, just look at that makeup!

Ciara and Sienne as the Williams sisters
Ciara and her mini-me, Sienna, dressed up as Serena and Venus Williams from the got milk? ad.
Skai Jackson as Janet Jackson
Are we seeing double? Skai Jackson is almost a splitting image of Janet Jackson this Halloween!

Alicia Keys as Beerus
Alicia Keys is Beerus from the Dragon Ball Z universe!

Kardashian kids as Aaliyah, Sade, Snoop, and Eazy E
The Kardashian kiddos are killing it as a few of our favorite music artists! North is Aaliyah, Saint is Snoop, Chi as Sade, and Psalm as the cutest Eazy-E!
Khalid as Woody
C'mon set design! Khalid is Woody from Toy Story!