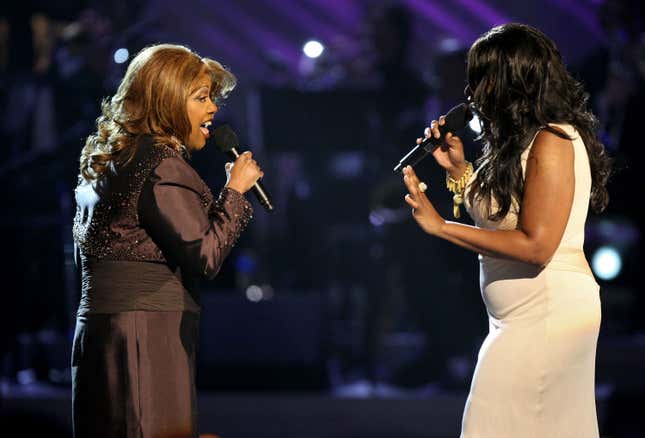 The BET Awards are known for delivering some of the most unexpected, unforgettable performances of the year. The network's influence on Black culture gives it a special place in the hearts of the biggest stars in entertainment, which means they're willing to show up for the event and give the audience something they won't get on mainstream awards shows. Ahead of BET Awards 2023, which air live June 25 at 8 p.m. ET/5 p.m. PT on BET and across Paramount's cable networks, we're taking a look at some the show's most memorable performances.

How Queen Latifah's "U.N.I.T.Y." Stood Up For Black Women Against Domestic Violence
Jennifer Hudson and Jennifer Holliday
After the overwhelming success of the Dreamgirls movie adaptation, there was only one possible way to open the 2007 BET Awards. We weren't surprised when Oscar-winner Jennifer Hudson opened the show with "And I'm Telling You I'm Not Going," but when she was joined by the original Effie, Tony-winner Jennifer Holliday, we lost our damn minds while the sang our faces off.
New Edition Tribute
The New Edition Story is one of the best projects BET has ever produced. It was a gigantic ratings success for the network. To celebrate the iconic group with the lifetime achievement award, the talented cast of the miniseries took to the stage to perform the supergroup's past hits. Then they joined NE for a giant "If It Isn't Love" finale. For a lifelong New Edition fan, this was the greatest BET moment ever!
Slick Rick and Doug E. Fresh
Sorry kids, but none of your current favorites can touch the storytelling ability of Slick Rick. The way he and Doug E. Fresh command the crowd—and take everyone back to that moment when they discovered how cool hip-hop was—is something you can't learn. Either you have an unmatched stage presence or you don't.
Mary J. Blige Medley
Obviously, 20 minutes of Mary J. Blige singing her greatest hits is always going to be magnificent. But the essence of Mary J's connection with her fans can be found when she prompts the audience to sing "I'm Going Down," and every woman in the theater belts it out from her soul, while every single man knows it's time to step back and let them get their shit off.
Patti LaBelle's Prince Tribute
Prince was known for not being a fan of other people singing his songs. Just ask Foo Fighters about his Super Bowl revenge. But like the rest of us, he went absolutely crazy for Ms. Patti's version of "Purple Rain." He even grabbed one of her shoes after she kicked them off.
With the show focused on a huge tribute to hip-hop, it's very likely that we'll have some new entries on this list after BET Awards 2023.