In one of the most poignant scenes in the BET miniseries The New Edition Story, the young Ronnie DeVoe, Bobby Brown, Ricky Bell, Michael Bivins and Ralph Tresvant are fresh off their first major world tour. The tour bus, painted with the group's name in graffiti letters on the side, pulls in slowly to drop the singers off at the Orchard Park projects in Boston's Roxbury neighborhood, where they grew up.
Despite all their hard work and newfound fame, the budding stars haven't earned enough money to move out of the hood because of a shady record deal, which included an advance of $500 and a Betamax video player. Their mothers are all still on food stamps, and the boys' royalty check is a whopping $1.87, even with a No. 1 record on the charts and after repeatedly selling out New York City's Madison Square Garden.

"It wasn't just a regular Betamax. It was one of those that you could connect a VHS to," says Bell, joking about it now on the phone as DeVoe and Brooke Payne, the group's choreographer (and DeVoe's uncle), laugh. But the guys all remember they were in tears and embarrassed at the time.
"It was tough. It was humbling to go back home," Bell says. "Your friends had seen you on TV. And we're still going back to the same schools. We're thinking we made it big, but we're right back there."

At one point in the movie, the mothers band together to meet with Payne about the group not getting paid. DeVoe's mother (who is Payne's sister) was going to take her son out of the group, but Payne insisted he stay. Payne, like the members of the group, wasn't getting paid, either.

G/O Media may get a commission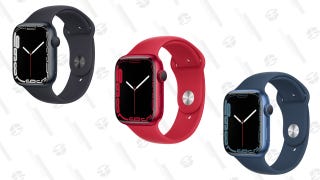 Up To $45 Off
Apple Watch Series 7
"If I didn't love those guys, it would have been a different movie," Payne says. "If I would have agreed to take Ronnie out of the group ... my thought process wasn't just getting him out of Roxbury; it was getting them all out of Roxbury."
The six-hour miniseries, which was 10 years in the making, is set to air on BET over three nights starting Tuesday. It is a musical feast, not just for New Edition fans but for anyone interested in great storytelling and great music. And the miniseries doesn't sugarcoat the group's story—it follows the boys through marriages and breakups, drug abuse, bankruptcy, the ups and downs of the industry, and an almost-murder.

The miniseries is also a raucous, nostalgic ride with a soundtrack that helps move the story along. It doesn't fit into the formulaic biopic box but touches on the nuances of the group's epic rise: the early talent shows, Payne's relentless boot-camp-style practices and the group's passionate pursuit of success despite insurmountable odds.
The miniseries presents the ordinary part of their everyday lives: as kids playing outside and flirting with girls, practicing karate, their antics offstage with Soul Train dancers, and their alternating loyalty and infighting.

To prepare for their roles, the three sets of actors who span the group's entire career went to boot camp for eight hours a day for three weeks, with Payne and members of New Edition teaching and critiquing their every move.

"Mike would be like, 'That's not how I do this!'" Bryshere Y. Gray, star of Fox's hit show Empire, who plays a teenage Michael Bivins, says, laughing. "He was like, 'Our fans are gonna know if you're not being me to the fullest!'"
"Every person in the group would be standing behind us as we did the choreography," says Elijah Kelley, who plays Ricky Bell. "There's no worse feeling than being half their age and they do the routine five times right and aren't winded."
Woody McClain, who plays Bobby Brown, spent a week with the legendary singer to get all his mannerisms down, including walking around the studio for hours with Brown trailing behind him to make sure he got Brown's walk down pat. McClain even ended up joining Brown and his family for the July Fourth weekend, eating the ribs that Brown cooked.

But that wasn't enough to become Brown.
Payne, who founded, trained, mentored and nurtured New Edition, is now 56 years old (he's played by Wood Harris). But his age didn't stop him from giving these young actors the exact training he gave New Edition.
"I felt like I was in military boot camp," says McClain. "I was thinking I was killing it, and Brooke would stop the music and be like, 'Nope.'"
Payne and New Edition didn't tell the actors as they went through boot camp whether they had gotten the parts they had auditioned for. The actors would walk past the casting office and see their pictures under a particular character.
"But under our picture would be three other Johnny Gills, three other Bobby Browns," says Luke James, who plays Johnny Gill. "It was a Jedi mind trick. Like you gotta earn your spot. That's what New Edition went through to become New Edition."
"Ricky came over to me and whispered in my ear: 'Everything you're doing is dope, but just not so corny,'" Kelly laughs. "I was like, 'Let me sit down.' But I'm thinking, 'This is your story; you put in 30 years of work to be able to say that.'"
There was some concern about whether the actors would have enough time to pull off the high-energy, synchronized moves that made New Edition famous.
"It was a little scary at first," says DeVoe. "Our chemistry came together over years. We had almost five years together before 'Candy Girl' came out. But the youngsters got into place fast."
Algee Smith, who plays Ralph Tresvant, had some experience with New Edition as a kid watching his father play guitar on the road with Tresvant, Gill and Brown.
Ronnie DeVoe is being played by Keith Powers, who starred in the biopic Straight Outta Compton.
And New Edition isn't finished yet. The day after the miniseries ends, the new Bell Biv DeVoe album, Three Stripes, drops. It features production by Erick Sermon, whom the group courted for years, and cameos from legends like Doug E. Fresh on the opener "Ready," SWV on the single "Finally" and Boyz II Men on "One More Try." This spring, there will be a New Edition tour featuring BBD, SWV, En Vogue and Guy.
This has been an emotional 10-year journey for New Edition, coming back together and getting their story told correctly. At a screening in Boston, they all got emotional.
"Watching it on film with my aunt Donna, aunt Ella and sister Regina and looking at Rick's sisters and aunts in the audience," DeVoe says. "They helped shape us into who we are and shaped our desire to become New Edition. Fast-forward to 2017, and it's on the silver screen, and all of the people that had something to do with it were in the audience."
"If we didn't break apart and do our individual thing, there wouldn't be enough depth to New Edition," says Bell about their journey. "But we can't wait to get back."