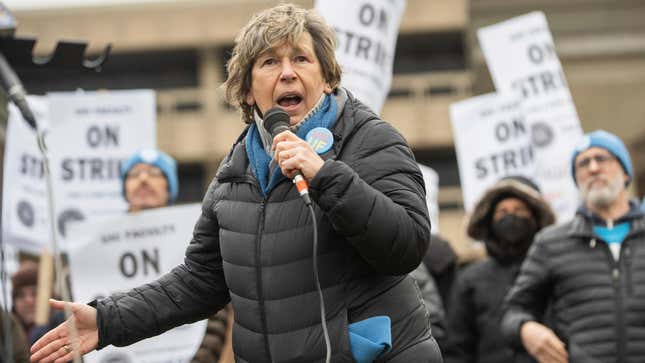 On Tuesday, American Federation of Teachers President Randi Weingarten will give a speech for the National Press Club condemning the GOP's dangerous and discriminatory censorship regarding education. NBC News managed to obtain a copy of her speech in advance and Weingarten—who is a Biden ally—holds nothing back in her address:
"What started as fights over pandemic-era safety measures has morphed into fear mongering — false claims that elementary and secondary schools are teaching critical race theory; disgusting, unfounded claims that teachers are grooming and indoctrinating students; and pronouncements that public schools push a 'woke' agenda. This is an organized and dangerous effort to undermine public schools."
ABC News' Deborah Roberts: Local News Was Key To Unraveling George Santos | Securing the Bag: Part 2
Weingarten will also share a plan that will help young learners without silencing important, marginalized voices. She will discuss how to increase school safety, support better mental health in students and deal with learning during the coronavirus pandemic.
Weingarten will also state that legislation previously passed or about to be passed in states across the nation is aimed to "create a climate of fear and intimidation." It also permits conservatives to move funding away from public schools. "Our public schools shouldn't be pawns for politicians' ambitions, or defunded and destroyed by ideologues," she will state.
President Biden has called the GOP's attack on critical race theory—and anything they deemed "inappropriate"—as "culture wars." However, what the right is doing is far more insidious than that. In desperate attempts to cling to power, they want to erase history and absolve themselves of any accountability when it comes to upholding white supremacy in a country built on it.