Last year we did a gift guide on being woke; this year, we desperately want to awaken from this nightmare of the Trump administration and its hell-bent mission of disenfranchising and subjugating those who are not rich, straight, white, male, and morally bankrupt.

Fear not—we have a balm, a safe space, some product (this being America and Black Friday) that can help to soothe our weary, troubled souls, because let's face it, every single day and news cycle is liable to produce anxiety, depression and an overwhelming and abiding helplessness if we are not vigilant in maintaining our physical, mental, emotional and/or spiritual health.
What's not on this list (though we, well, I, highly recommend them): sensimilla and all of its derivatives (buh-bye Jeff Sessions); therapy (all black people should get them some); less social media (research now backs this up); taking a brain med if you need it (no shame in my game); spending time getting to know yourself (ahem); finding joy and meaning in this fleeting life on a regular (cooking, knitting, Magic City); doing something just for you; surrounding yourself with beauty to stimulate all of your senses.
Because this is The Root, most of the products are from black-owned companies (*B.O.) brought to you with thoughtful, loving kindness from us to you. Self-care is not necessarily about spending money, but sometimes it is. We deserve it all. And so we present to you the Self-Care Gift Guide on this Black AF Friday, 2018.
P.S.: Laughing hard (aka busting a gut) is Free99.
G/O Media may get a commission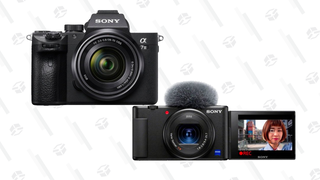 Cyber Monday Deals
Sony Camera Sale
What is more iconic in the self-care zeitgeist than a warm, fragrant bubble bath with glowing candles dancing off the walls? All this you can have, through LIT Brooklyn the appropriately named luxe line that features full-size candles, travel candles and matches. Each candle is created with 100% natural soy wax and is hand poured, packaged and shipped from Brooklyn by the 29-year-old self-proclaimed hustler herself, Denequa Williams. Free Shipping on all orders over $75. B.O.

Colored Girls Hustle is "a feminist small business creating dynamic products and presentations for bold self-expression," and founder Taja Lindley delivers on that and so much more. With a fierce line up of unique and bold earrings, jackets, Ts, sweatshirts, buttons and more, CGH not only moves product but celebrates and amplifies women of color artists, entrepreneurs, and activists #onherhustle for our communities. Our fave?The "I Can Do All Things" sweatshirt, which is, in fact, a word, the truth, our light. B.O.

Bevel touts itself as the first and only end-to-end shaving system specifically designed to help prevent irritation and razor bumps, a boon for black men who have to contend with just these issues. These products will keep you or the clean-cut man in your life right, and there are also trimmers so that #beardgang can keep it tight, too. B.O.

I love this book. I love everything about this book, including its lush yet muted illustrations and the fact that the story centers a little brown boy and his abuela riding the subway on a hot summer day. Its premise? Young Julian sees three mermaids on the train, and goes home to emulate their beauty with household items like curtains and potted plants. Author Jessica Love brings us a joyous, touching story that will warm the hearts of adults and children alike. Be free, children!

For those of us who are definitely jeans and t-shirts kinda folks—but like, not just any t-shirt, it's gotta be fly—needthattee is where you need ta be. With a slew of collections including NegusWhoRead, I See You Looking and Black @tlanta by Fran, you can wear your art—and your heart—on your sleeve. Our fave, given the year we've had? "Don't Call The Police."B.O.

Feelmore Adult Gallery ships sex toys, lube, vibrators, books, and everything you need to get to know you—and others—a lot better. No, it's not all about your body, but community and openmindedness (and of course, pleasure, which we deny ourselves so often.) And even though the physical store is located in Oakland, Calif., they ship their sexy all over the world. So stop by next time you're in the Bay, or check out the website to play. B.O.

Sometimes self-care is about motivating oneself to move forward, to continue, or to crush it. And with Elouise and Ethel (named for the matriarchs of the family of founder Shante Bacon-Cius), your encouragement and knowledge are just a glance away. First up from this jewelry collection is a collection of charms you can add on to, with motivators like, "Purpose," "Yaaas" and crowns, so that these "affirmations you can wear" are always there. B.O.

An indispensable part of self-care is tending to your mind, and yes, children, that includes books. Sure, books are going the way of Blair Underwood's career (sorry, Blair), but whether it's hip-hop poetry or a searing look at the movement for racial justice in "postracial" America or class struggle, Haymarket Books is the place to feed your biggest organ. This independent publisher will free your mind … I think you know the rest (Special holiday 50% off all books through the new year, so there's really no excuse not to stimulate your mental).

We don't advocate alcoholism (who does? Well, besides those women on that morning show), but vino has been "taking the edge off" since, well, forever. The market and taste for wine have really exploded in the last 10 years, and thanks to our friends over at ShoppeBlack.us, we present to you 31-Black-Owned Wine businesses so that you can imbibe and unwind. And for those who enjoy beer, and craft beer especially, we continue to celebrate our heritage and entrepreneurship with Harlem Brewing Company, which ships everywhere you sip. B.O.

Some years ago, vegan lifestyle expert Tracye McQuirter published By Any Greens Necessary: A Revolutionary Guide for Black Women Who Want to Eat Great, Get Healthy, Lose Weight, and Look Phat, the first vegan guide geared to African American woman; this year, she followed up with Ageless Vegan: The Secret to Living a Long and Healthy Plant-Based Life, where Tracye teams up with her mother Mary to share their secrets for maintaining radiant health for more than 30 years (hint: it's all in the greens, baby!) B.O.

A little bird told us (actually, it was Negrodomus) that beards would continue to dominate for the 1-9, and there is nowhere better to find the best shaving and grooming goods online for men than Himistry, the beautifully packaged, shaving and product system that addresses men's specific skin care needs, based on skin type and issue. Gone and get you some for that glow up from the flo' up. B.O.
What did Nettie tell Celie as they were being dragged apart in The Color Purple? WRITE. And we can't think of a better way to delve into yourself than using the power of restorative journaling to survive, grow and heal through the difficult times we surely all face. This system will start you on your way to journaling, and use it as a healing tool. Sign up for the Rawness of Remembering newsletter for a special discount.

Although we recognize that the Motherland is a whole-ass, diverse beyond, and limitless cultural expanse, here is your bazaar for all things "authentically African," supporting African businesses, artisans and companies. We especially are digging the Men's Fashion category, which will get those masculine-centered folks in your life ready for that Kwanzaa Crawl. MarketplaceAfrica.com. B.O.

Oh, sure, they say lingerie makes women feel powerful, but as any woman without a surgically enhanced body who has watched a Victoria's Secret fashion show knows, lingerie can be problematic, and even traumatic if you don't enter into it with the right frame of mind. The book, In Intimate Detail: How to Choose, Wear, and Love Lingerie by The Lingerie Addict founder Cora Harrington will get you ready for teddies! The book, like the blog, stresses that lingerie is for everyone—no matter their size, race, sexuality, age, ability, or gender, and the book uses no models so that women can get real information and empowerment on how to choose, fit and care for their alluring undergarments. B.O.
And after that, go cop some Savage x Fenty, the bold lingerie line by our baddest biyyyah Rihanna. Everything—yes, everything—is 50% off this Black Friday!

With a tagline like, "Ready to glow, heaux?" I was immediately a fan. Created by performer and actor Hassan Sayyed, Haus Urban bills itself a place where natural technology meets apothecary-inspired design. The rich, varied product line of body butters, lip balms, cleansers and toners with delightful names like, "Headshot Face Oil" and "Double Time Facial Toner" were designed for performers like Cynthia Enviro (a fan) but anyone can partake in this skincare system and be ready for the bright lights. B.O.

In all this self care stuff, we can't ignore our actual physical bodies and yoga is a wonderful way to align, center, and get a damn good workout (don't sleep on the stretches, fam). Trap yoga, which combines poses with a good bop, has taken off in recent years, and this beautiful set of trap inspired poses by Trap Yoga Bae will show you positions as well as #ratchetaffirmations. (Also, the Trapsgiving sale offers 20-50 percent off, so twerk on that asap). B.O.
The point is to grab joy, beauty, power on a regular, and also to know that life is not just that but struggle, sacrifice and yes, sometimes sad songs. It doesn't last always tho. And in the meantime between time, do you!
Happy Holidays!