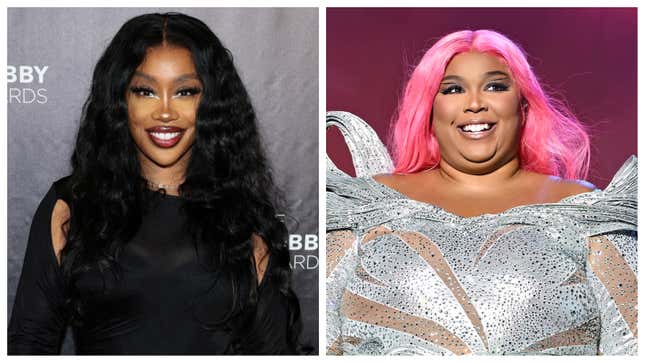 SZA is tired of the negativity, fat shaming and overall online vitriol directed at fellow singer Lizzo.
The "Kill Bill" singer called out the people who don't speak up enough in defense of Lizzo when she's getting berated in recent tweets, pondering if people actually know how to support each other when the time calls for it.
"I be wondering where all the virtue signaling ,well spoken shit talking , internet warriors are when someone genuine needs defending," SZA began in the first tweet. "Where the fuck do y'all be at for lizzo ? Do y'all actually know how to support others or only tear them down."
When one user asked challenged her and sarcastically asked if people didn't "go up" for Lizzo, the "Good Days" fired back: "NOT EFUCKINGNUFF . For as much free love, encouragement and positivity she embodies n shares on every app daily ? The ratios's don't add up."
SZA continued:
I also dgaf who don't agree . It's been on my mind for a minute .. makes me upset. jus want everyone to practice kindness and shutting tf up more often cause GADDAMN ITS UGLY OUTSIDE ALREADY. Why add?
These tweets come two weeks after the "Special" artist herself took to her own page to call out fat-shamers and haters.
"This is the type of shit I see about me on a daily basis It's really starting to make me hate the world," Lizzo said as previously reported by The Root. "Then someone in the comments said I eat "lots of fast food" I LITERALLY STOPPED EATING FAST FOOD YEARS AGO… I'm tired of explaining myself all the time and I just wanna get on this app w/out seeing my name in some bullshit."