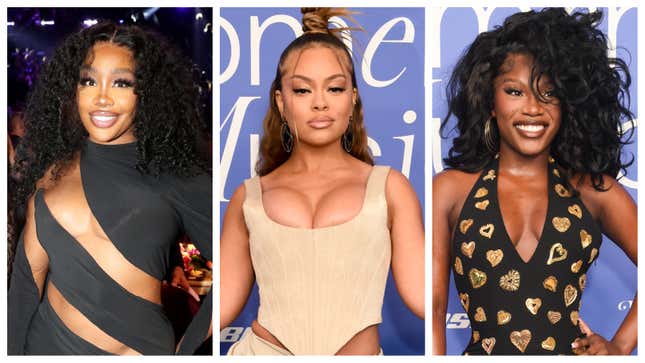 On Wednesday night, the 2023 Billboard Women in Music event took place, airing live from the YouTube Theater at Hollywood Park in Los Angeles.

SZA Strikes The Heart With Songwriting Prowess on "Kill Bill"
Emmy-award winner Quinta Brunson served as a the host for the evening and encouraged women to continue working together for better equity and opportunities both in the music industry and beyond. And like we do with every other mainstream award, let's go ahead and get into some of the Blackity-black honorees of the night. Starting with...
Rising Star Award: Rapper Doechii
The 24-year-old rapper received the Rising Star Award, which was presented by her mother. Before accepting it, she performed a jazzy, slowed down version of her hit song "Persuasive" and along with "Crazy." She later acknowledged the magnitude of the moment and others who won the same award in years past such as Nicki Minaj, Lady Gaga and Janelle Monae.
"This is a huge, huge stamp and I'm really proud of myself," she said.




Powerhouse Award: Rapper Latto
The energy was at a high when rapper Latto took the stage to perform her new single, "Lottery, " alongside Lu Kala. Afterward, she was presented with the Powerhouse Award by Chloe Bailey. In her acceptance speech, she also acknowledged the women who received the award in years prior such as Megan Thee Stallion and expressed her gratitude for the honor.
Billboard Woman of the Year: SZA
The night's biggest honor went to SOS singer SZA, who was the recipient of the coveted Billboard Woman of the Year Award, presented by rapper Coi Leray (with a suprise video appearance by Lizzo.) After thanking her family and team, SZA went on to express her respect and admiration for her peers and the misconception of always feeling like "that girl" and confident as an artist.
"I feel like it's OK to not be that person all the time," she began. "And I used to feel like I didn't belong because I don't always feel like that. But I realized that the key is to stay open and available for whatever the Universe or God wants to do with your life. And it's like even if you don't know who you are or even—I don't know why I'm 10 weeks on Billboard, I'm grateful."
She continued:
"But I really just want my life to be more than music, to be more than an artist. I wanna serve others, I wanna serve people, I wanna be open and available to what God wants for me.

"And saying yes to everything that's scary, to everything that feels like it's not for you, or where you don't belong is really the only way we walk through those doors. So I just encourage everybody to continue to be inspired and just stay available. You don't have to be confident, you don't even have to know that you are the one or anything like that. You just have to say yes to the possibility."
Other winners of the night included Sylvia Rhone, Rosalía, Ivy Queen, Kim Petras, Becky G, and more.
To see the full list, head to billboard.com.