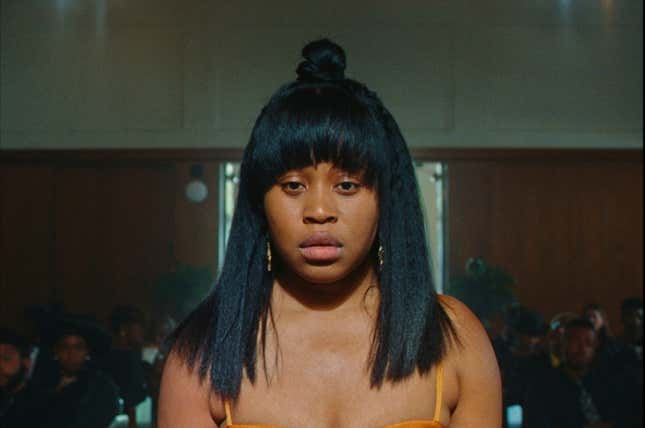 When you watch a Donald Glover show, you never know what to expect. Fans of his unpredictable artistry can expect another weirdly captivating project in the new Prime Video series Swarm.

Donald Glover's Swarm Is Our Black TV Pick of the Week
Premiering March 17, the show follows Dre, a young Black woman who undergoes a major change after a series of disappointments motivate her to travel cross country to meet her idol, pop star Ni'Jah. However, the twist comes when Dre's trip gets a little bloody, as she starts killing those who stand in her way. The show is heartbreaking, scary and funny–basically, everything you loved about Atlanta, which makes sense because many of that Emmy-winning series' team are now working on Swarm. Executive producer Janine Nabers and series star Dominique Fishback spoke to The Root about creating the show's unique tone.
Coming off her acclaimed roles in the film Judas and the Black Messiah and limited series The Last Days of Ptolemy Grey, Fishback is getting a chance to showcase the full range of her talent in Swarm. As Dre, she takes the audience on an intense, yet absurd journey through super fandom. The character's emotions don't change from scene to scene, it's more like moment to moment–and Fishback handles it all brilliantly.
"Some of those things were already naturally in the script. It's a testament to the actors that they pulled together. I got to act with some amazing people that allowed us to develop the tone and find out what was funny or what wasn't funny," Fishback told The Root. "I wanted to do it because I thought it was really smart. It takes something that we know as a society and heightens it to the umpteenth power and just makes it wild."
For Nabers, it was about taking this particular type of thriller and telling a very specific story. It examines this Black woman's life and how she chooses to deal with its many obstacles. Sometimes they're devastating, while other times they're hilarious. But to Dre, they all seem to come with the same unconventional solution.
"We were inspired by a lot of arthouse, avant garde characters being a little more alien than we would normally get. Not really holding anyone's hand with who this woman is in a way where they get comfortable," Nabers said. "That was very specific to the story, because I feel like a lot of these ambiguous, antihero stories…a lot of that has been reserved to white men. We really wanted to give a Black woman this very complicated journey of who is this character? Do I trust this person? How much do I think I know this person?"
With so many members of the Atlanta team working on Swarm, it's no surprise that the show sparks a very familiar feeling. It's something that the audience can definitely pick up on as Swarm has the same unpredictable energy as the FX hit. When an episode ends, you're never quite sure how to process what you've just watched.
"What's really great about having worked on Atlanta with Donald, and with so many people who are also on Swarm, is that we would watch the most horrifying thing, but you always find something funny," Nabers said. "The tone is really something of its own. It is this genre bending, tonal shifting story, and we're just really happy with how it turned out."
Swarm premieres March 17 on Prime Video.