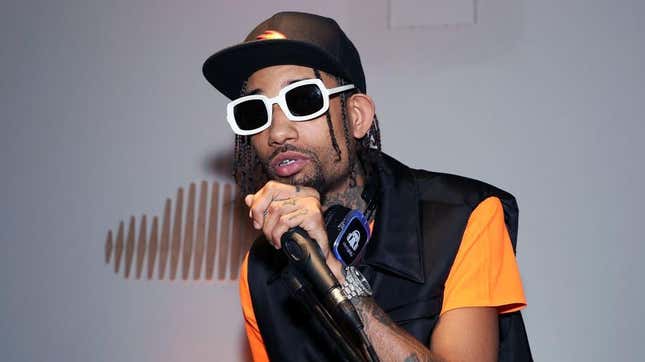 Updated as of 9/28/2022 at 2:30 p.m. ET 
Weeks after the unfortunate murder of PnB Rock, the Los Angeles Police Department has arrested a 17-year-old teen and a 32-year-old woman in connection with the fatal shooting of the Philadelphia rapper.
The Top 5 Rappers Of All Time According To Stephen A. Smith
On Wednesday morning, Freddie Lee Trone was named as one of the suspects in the murder of PnB Rock, who was killed while dining at Roscoe's House of Chicken & Waffles with his girlfriend in South Los Angeles, Calif. on Sept. 12.
Police alleged that Trone came into the restaurant, walked up to Rock, attempted to take his jewelry and then proceeded to shoot him multiple times, according to the LAPD.
The 17-year-old boy arrested on Wednesday is Trone's son, but his name has not been released to the public. He was taken into custody on a murder charge. Trone and his son were allegedly waiting in the parking lot of the popular Los Angeles restaurant when Rock and his girlfriend came to get something to eat, according to FOX 11 Los Angeles.
The 32-year-old woman arrested on Wednesday is Shanutel Trone she was taken in on accessory to murder charges. Her relation to Trone and his son is still unknown.
Freddie Lee Trone is still on the run and is considered "armed and dangerous." according to the LAPD.
In the past weeks, fans on social media have blamed Rock's girlfriend for posting a photo of where they were eating on her Instagram story. The photo included a geo-tag, which gives the exact location of the post.
During a press conference earlier this month, Los Angeles Police Chief Michel Moore said the post by Rock's girlfriend may have given the suspect an idea of where the couple was eating. Throughout the investigation, Rock's girlfriend has been cooperative with the police.
But does the new information that Trone and his son were waiting in the parking lot debunk the theory that Rock's girlfriend's Instagram post gave away their location? Do the people blaming his girlfriend owe her an apology?
Born Rakim Allen, Rock's death has initiated multiple conversations on the violence occurring in hip-hop, especially how it has escalated over the last few years.
Since 2018, at least one rapper has died every year from gun violence: XXXTentacion in 2018, Nipsey Hussle in 2019, King Von and Pop Smoke in 2020, Young Dolph in 2021 and now PnB Rock.
Hopefully, after the murder of PnB Rock is solved, hip-hop as a community can think of solutions to decrease gun violence within the genre.