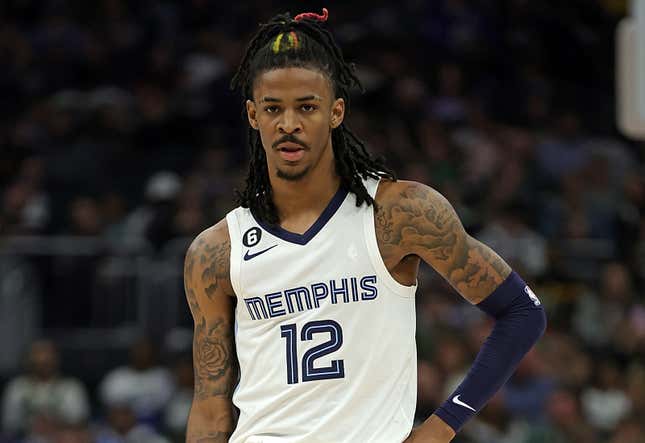 It seems there's no end to the drama surrounding this Ja Morant scandal. As the basketball world waits to hear what his punishment from the NBA will be, rumors are swirling that we may not have the full story. Claudia Jordan of The Breakfast Club is saying that her sources have told her the gun the Memphis Grizzlies star flashed on an IG Live video in May is actually a toy.

Small Town Horror Story: The Killing of Latasha Harlins & The L.A. Riots
"My sources say that the relative in the car in the backseat had a toy gun in the car," Jordan said. "The gun is not real. And was playing around with it, passed it over to Ja and that got caught on the live."
The video in question was originally posted on May 14, just two months after a different video on Instagram saw him showing off a gun at a Denver nightclub. This new video led to an indefinite suspension from all team activities by the Grizzlies, and an investigation from the NBA.
Jordan's report was met with suspicion from her co-hosts. Charlamagne Tha God wondered if that was "the best excuse" they could come up with and why Ja's team didn't claim right from the start that it was a toy. DJ Envy asked why the gun didn't have the orange tip that realistic looking toy weapons usually have.
Considering how much trouble Morant was already in, if this was indeed a toy gun, wouldn't that have been the first line in any statement his people issued? And even if we assume he's telling the truth and it was a toy, why would you be flashing a fake gun around after you just got in hot water for brandishing a real gun at a nightclub?
During his recent NBA Finals press conference, Commissioner Adam Silver explained that the league had reached a decision on Morant's punishment, but that it wouldn't be announced until after the Finals are over.
"We've uncovered a fair amount of additional information," Silver said. "We probably could have brought it to a head now, but we've made the decision that it would be unfair to these players and these teams to announce that decision in the middle of this series."
Sports talk rumors have the two-time All-Star's possible suspension in the 30-game range. This wouldn't instantly end Memphis' season, but it certainly would put the team at a major disadvantage. As far as the NBA is concerned, this isn't about whether or not the gun was real. For them, this is about optics and PR. They went easy on Morant after the initial incident in the nightclub, and received criticism for putting the playoffs above a player's well being. This time around, they have to go hard on Morant to show that they take the issue of guns seriously and to also protect one of its stars from his own bad choices.