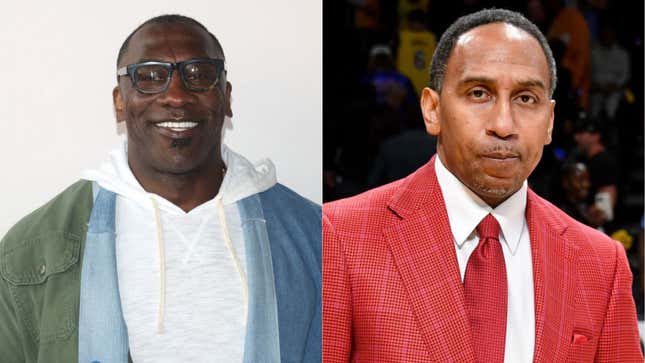 I don't think people understand: The forces of Stephen A. Smith and Shannon Sharpe have the potential to make sports television history. No matter how annoying or frustrating you may find them, they will put eyes on the TV screen every time they show up in a segment together.
Stephen A. Smith Waited Until His Mother's Passing To Write His New Memoir
If you haven't heard, Sharpe will be signing with ESPN and will debate Smith Mondays and Tuesdays on First Take during football season, according to the New York Post. This comes nearly two months after Sharpe said goodbye to Skip Bayless and his uber-popular FS1 debate show, Undisputed.
But just hours after the news was announced, Smith attempted to temper fans' expectations by saying on his podcast, The Stephen A. Smith Show, that ESPN has not officially "signed on the dotted line" and that reports were premature.
But in any case, it hasn't stopped sports fans from getting excited. Outside of the fact that two of the biggest and most popular names in the industry are joining forces, Sharpe potentially signing with ESPN is almost like LeBron James going to the Miami Heat, Kevin Durant to the Golden State Warriors, or Thanos getting the final infinity stone. He's making an already powerful entity even more powerful.
Outside of the entertainment value that both men provide as TV personalities, they are legends on Black and Sports Twitter (I know it's X, but Twitter just sounds better). While they are often the source of controversy on social media, they also provide much-needed laughter through their memes and clips that have been reused for the past decade.
Whether it's Shannon Sharpe bringing Hennesey and Black & Mild on the set, or Stephen A. Smith walking in with a cowboy hat and boots after the Dallas Cowboys lose a tough game the Sunday before. These two in the room together, I have no idea what's going to happen. But what I do know is that if this deal does go through, and Shannon Sharep officially joins ESPN, sports fans are going to be in for one hell of a debate show.