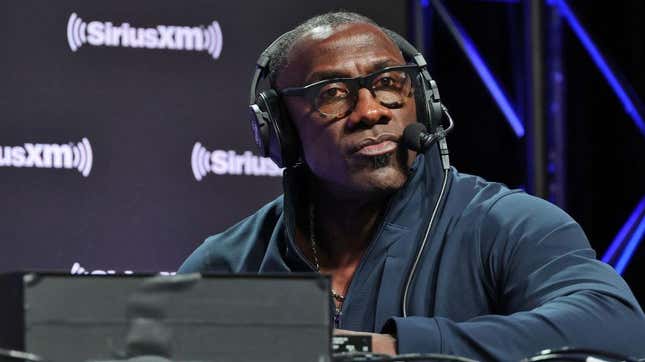 "Skiuuuppppp!" "Goat James!" "'Mahomeboy!" All those hilarious sayings that NFL Hall of Famer Shannon Sharpe is known to say on FS1's debate show, Undisputed, will soon come to an end.
My Hip-Hop Story: Cedric The Entertainer On Jay-Z and His Indisputable Role In Shaping The Genre's Culture
According to the New York Post, Sharpe has reached a buyout agreement with Fox Sports and is expected to host his final show shortly after the NBA Finals end. Neither Sharpe nor Fox Sports have released a statement as to why the two sides are parting ways, but its very possible that this is a decision that's been brewing for the past year.
In December 2022, Sharpe and his co-host, Skip Bayless, had a heated confrontation when Bayless claimed that the Hall of Fame tight end was jealous of Tom Brady because he was still playing at a high level at the age of 45, while Shannon retired from the sport at 35.
Skip even went as far as saying, "He's way better than you were!"
This led to a heated reaction from Sharpe and caused many on social media to say that Bayless crossed a line when he attacked Shannon's career, especially since he was a great player in his own right.

In January, the duo had another heated confrontation over Bayless' tasteless tweet over the on-field collapse Buffalo Bills Safety Damar Hamlin suffered on Monday Night Football against the Cincinnati Bengals.

The tweet Bayless wrote the night of the incident read, "No doubt the NFL is considering postponing the rest of this game - but how? This late in the season, a game of this magnitude is crucial to the regular-season outcome ... which suddenly seems so irrelevant."

On the next morning, Bayless appeared on Undisputed alone, without Sharpe, to address the controversial tweet that got so many people (rightly) angry. When Shannon returned on Wednesday, he said that he disagreed with the Tweet and he hoped that Bayless would take it down. This led to another heated altercation between the two.
In all honesty, I'm surprised that Sharpe has stayed on the show for this long considering the nonsense Bayless often utters as the de-facto leader of Undisputed.

But fans still have no idea what's in store for the retired football player. He does have a popular podcast and YouTube channel titled Club Shay Shay, but I doubt that will be his only endeavor. What's in store for the popular television personality?