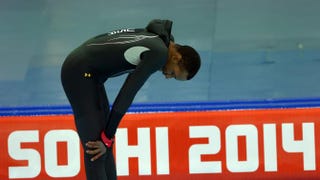 Shani Davis' storybook career may have come to a sad end Wednesday, as he finished eighth in the men's 1,000-meter speed-skating event, coming up short of being the first speed skater to win the same event at three consecutive games.
The heavily favored Davis, one the greatest winter Olympians of all time and the face of American speed skating, finished with a time of 109.12. The Chicago-born skater looked every bit of his 31 years coming in well over the medal times in an event in which he holds the world record.

Speed skating has never seen anyone like Shani Davis, the long-legged black man whose strides swallow up yards of ice and who often credits out-running knuckleheads on the Southside of Chicago as a youngster as the reason he has been able to out-skate the rest of the world for the last decade.
The Netherlands won two medals in the race, with Stefan Groothuis winning gold in 1:08.39 and Michel Mulder winning bronze in 1:08.74. Canada's Dennny Morrison took silver in 1:08.43.