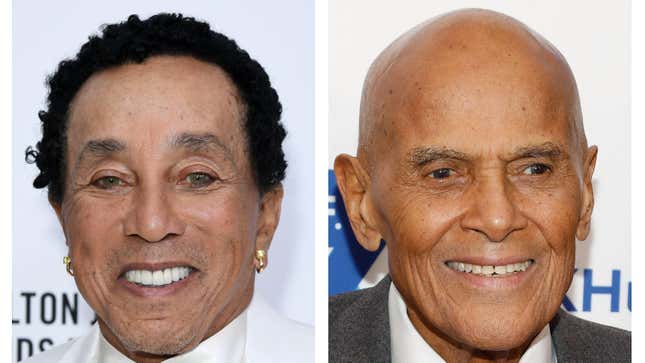 Today, the world is mourning Harry Belafonte, who passed away in New York City at age 96. Tributes have been pouring in from politicians and actors alike who have expressed their sadness on Twitter.
Smokey Robinson Wants His New Album To Cause You "Gasms"
The Root caught up with Smokey Robinson, who is out promoting his new album, GASMS, to get his reaction to the death of the Tony-winning actor, singer, and activist.
"I was grieved when I found out Harry had died. He was a friend of mine and was such a wonderful man," he said. "One of the most talented men I've ever known."
But in addition to his amazing talent, Robinson says he will always remember Belafonte's contributions to the civil rights movement, including being one of the organizers of the 1963 March on Washington, where Dr. Martin Luther King Jr. delivered his famous "I Have a Dream" speech. "He was a great figure, especially for Black people. He was one of our leaders. And he was really strong during the Civil Rights Movement when we were doing sit-ins and the marches," he said.
As he reflected on his contributions to the industry, Robinson recalled a story about Belafonte's influence on his work at Motown developing another great artist, Mary Wells, known for her hit, "My Guy."
"When she came over to Motown, she had written a song called 'Bye Bye Baby.' We recorded the song with her and it was a mild hit. And Berry [Gordy] came to me and said, 'I want you to do an album with Mary,'" Robinson said.
"I wanted to do something different with her, but I didn't know where I wanted to go. But I was watching Ed Sullivan and Harry comes on singing 'Day-o,' and I decided I was going to make [Mary] the calypso woman of R&B. So the first songs we recorded with her have the congas and all of that calypso feeling on them and it was because I had seen Harry on television," he said.
Robinson said even though he hadn't seen Belafonte in years, he left a lasting impact. "I loved him very much because from the first time I met him, he treated me like I was his son and had known me forever. He was always great with me. And I'm going to miss him," he said.